The Oldest Hotel In Hawaii Is Also One Of The Most Haunted Places You'll Ever Sleep
There are countless incredible hotels and resorts found across the Hawaiian Islands – especially in Waikiki – but today, we're taking a look at Hawaii's oldest hotel. The Moana Surfrider, which opened in 1901, was the first luxury property along Waikiki Beach, beating the Royal Hawaiian by more than 25 years. The historic hotel is often referred to as "The First Lady of Waikiki," and while it is undoubtedly the embodiment of old Hawaiian elegance, it is also rumored to be haunted. This historic haunted resort in Hawaii is sure to make your vacation special … and a little spooky.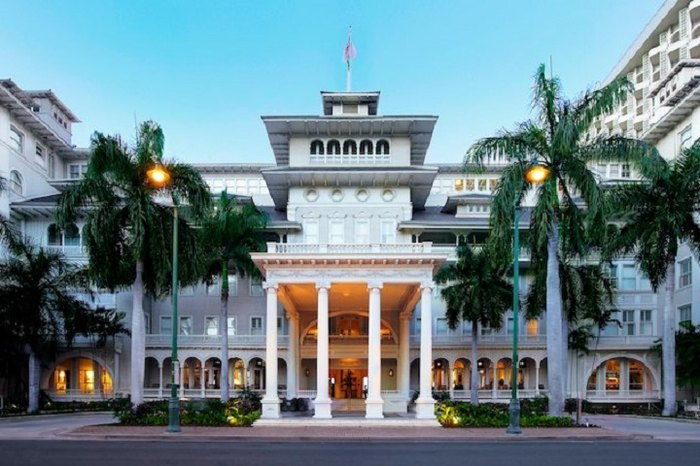 For more information about the magnificent Moana Surfrider, or to book your stay (if you dare!), visit the official website.
The Moana Surfrider isn't the only Hawaiian hotel rumored to be haunted! These haunted hotels in Hawaii are sure to thrill and chill you.
Address: 2365 Kalakaua Ave, Honolulu, HI 96815, USA
OnlyInYourState may earn compensation through affiliate links in this article.
Haunted Resort in Hawaii
July 09, 2022
Which haunted hotel in Hawaii should I book a stay at?  
Sure, Hawaii might be one of the most beautiful places in the United States (if not the world), but that doesn't mean it's somehow without its ghosts, hauntings, urban legends, folklore, and more. There are enough haunted hotels in Hawaii that we've been able to write heaps of articles about them, so which ones are the best ones to stay at if you're hoping to see a ghost? We recommend heading over to the Volcano House Hotel, which is easily one of Hawaii's most haunted places. Common reports include those of a ghostly white dog, an elderly woman who wanders the halls and hangs out in rooms, and electronic disturbances. 
What is the Moana Surfrider's history?  
First opened in 1901, this relaxing resort and spa in Hawaii has been the name of luxury on the islands since the start. When it opened, it was amazingly modern with amenities we've come to simply expect, like telephones, an electric elevator, and, of course, private baths. It's beautiful, but it's also said to be haunted. It's thought to be SO haunted that it's been named one of the five most haunted places in the United States by several outlets, and one can't Google hauntings in Hawaii without coming across the Surfrider numerous times.  
What are some notoriously haunted places in Hawaii?  
Well, the Surfrider, of course – but there are more. Oh, yes – many more. Who knew Hawaii is home to so many wayward spirits? Well, the Natives, for sure – though sometimes it can still come as a surprise! Did you know the Honolulu Airport on Oahu is thought to be haunted? Or that the Iao Theatre on Maui is plagued by restless spirits? It's (said to be) true – would you dare pay them a visit? If so, make sure to also check out the legendarily spooky Volcano House Hotel (which may or may not be inhabited by Pele herself), the Waikiki Prince Hotel on Oahu, and the Iolani Palace, also on Oahu … if you dare!  
Address: 2365 Kalakaua Ave, Honolulu, HI 96815, USA
OnlyInYourState may earn compensation through affiliate links in this article.