The Haunted Hike In Hawaii Will Send You Running For The Hills
As a state full of fascinating history – including wars, royalty, and mythology – there are countless ghosts who have taken up residence among the 1.4 million residents that call the Hawaiian Islands home. Unlike visiting any of Hawaii's haunted hotels or roadways, where you are protected by hotel security or your automobile, the haunted hikes you will find across the islands offer little peace of mind – especially at night. Imagine walking along a trail and hearing footsteps or a spooky scream in the distance – how are you to know if it is a fellow hiker enjoying the trail or a paranormal creature?
While you will find haunted trails across the islands – and especially on Oahu – there is perhaps no hike more sinister and spooky than Oahu's abandoned Old Pali Road, where ghost stories often outnumber hikers found on the trail at any given time.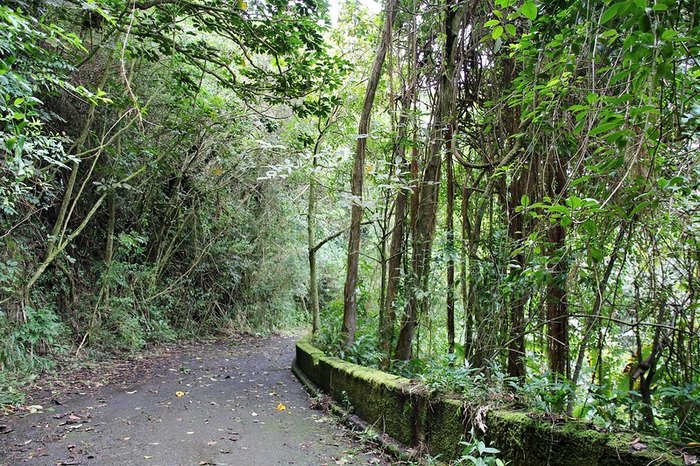 While we can't say that we've encountered any ghosts on the Old Pali Road, we will say that walking on an old, abandoned road – that could easily be the filming location of the next great horror movie – is an eerie experience. If you're looking for more spooky experiences on Oahu, be sure to check out Hawaii's Haunted Plantation, as well as this haunted Oahu road trip.
Do you think Old Pali Road is haunted? Have you ever hiked this road or encountered paranormal activity in the area? Whether you have or have not, we'd love to hear all about your experiences in the comments.
OnlyInYourState may earn compensation through affiliate links in this article. As an Amazon Associate, we earn from qualifying purchases.
More to Explore
Is Old Pali Road Haunted?
What is the most haunted road in Hawaii?
While there are certainly creepy and haunted places all around the Hawaiian Islands, the Old Pali Road on Oahu is one of the most haunted roads in Hawaii. In fact, this road may just give you nightmares. There are several legends and tales of paranormal activity near the Old Pali Highway including the legend of Pele and the demigod Kamapua'a. Kamapua'a is a half-man, half-pig creature that was once in love with Pele. However, the two had a terrible breakup and vowed to never see each other again. It is believed that you can now never take pork over the highway because it means you are taking Kamapua'a to see Pele. If you try, don't be surprised if your car suddenly stops and a woman with a dog appears. To continue on your journey, you must feed the pork you bring to the dog.
What other haunted places in Hawaii should I visit?
The Hawaiian Islands are home to all types of haunted places that are worth a visit, especially if you love all things creepy and spooky. The MacKenzie State Recreation Area, for example, is one area that is believed to be haunted. Here, portions of the King's Trail winds through the park and it is also the site of quite the tragic history from murders and beatings to rape. Many guests at this recreational area have heard horrifying screams, cries, and whispers. Some campers have even said they've had sleeping bags unzip entirely on their own.
Related Articles
Explore Hawaii
Featured Addresses

Old Pali Road, Old Pali Rd, Honolulu, HI 96817, USA