Posted in Hawaii
July 01, 2015
14 Epic Fireworks Shows In Hawaii That Will Blow You Away This Year
Hawaiians love their fireworks and festivals for any holiday, but Independence Day is especially spectacular. While some choose to have a low-key holiday with friends and family at home, or on a beach, others prefer to attend large events, where kids' activities, live entertainment, and – of course- fireworks shows, are plentiful. Here are 13 events to consider this Fourth of July.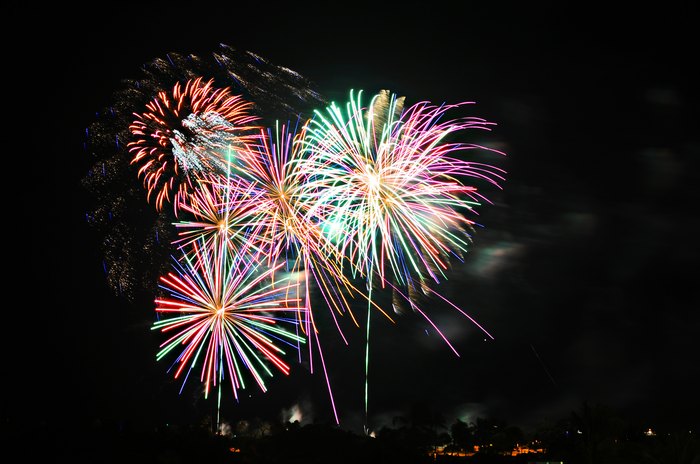 10) Kailua Beach (Oahu)
The annual Twilight Airshow will begin at 6:00, with appearances by Hank Bruckner and Clint Churchill, and a performance by the Marine Corps Marching Band. Fireworks start at 8 p.m.
11) Joint Base Pearl Harbor-Hickam (Oahu)
Visit Ward field beginning at 3 p.m. for a car show, petting zoo, and batting cage, with live performances by Dishwalla (5 p.m.) and O.A.R. (7:30 p.m.). Fireworks begin at 9 p.m., and the festivities are open to all military personnel and their sponsored guests.
12) Front Street, Lahaina (Maui)
From 4 to 9 p.m., Front Street will be closed between Baker and Hotel Streets to accommodate stilt walkers, face painters, balloon twisters, and magicians. Fireworks begin at 8 p.m.
13) Ko Olina Resort (Oahu)
Fireworks display begins at 8:30 p.m., and is open only to resort guests.
14) Vidinha Soccer Field, Lihue (Kauai)
The 26th Annual Concert in the Sky is a fundraiser for Kauai Hospice begins at 4 p.m., with live entertainment and a fireworks show at 8:30 p.m.
In addition to official fireworks shows and Independence Day celebrations, many Hawaiians will partake in setting off fireworks of their own, and I'm sure the sky will be aglow for many hours this Saturday to celebrate the founding of our nation. What are your plans for this Fourth of July?