Madison Is The Best Small Town In Georgia For A Weekend Escape
The Peach State has some magnificent bigger cities, don't get us wrong. There is so much to do in Atlanta, and Savannah is gorgeous. But to only focus on the larger cities means you'll miss out on some wonderful small towns in Georgia. Some are isolated and rural, and some are suburbs conveniently tucked away right outside of a larger city, but the one thing they all share is their quaint charm and Southern hospitality.
One small town in Georgia that has garnered quite a bit of attention nationally is the wonderful town of Madison. Located about half an hour south of Athens, this delightful little town was named Best Small Town in Georgia by Southern Living and has also appeared on lists from other publications. There's enough to do in this region of the state that you could easily visit for an entire week, but the next time you've got just a few days to spare, plan on taking a trip to this great small town. Here are a few ideas to get you started.
From the Hawaiian Island of Oahu to the coast of Massachusetts and everywhere in between, come along with OnlyInYourState as we introduce you to the best Small Town Getaways you can take this year. From nature lovers and foodies to history buffs and shopaholics, there's something for everyone within these unforgettable, two-day itineraries curated by our local travel experts just for you.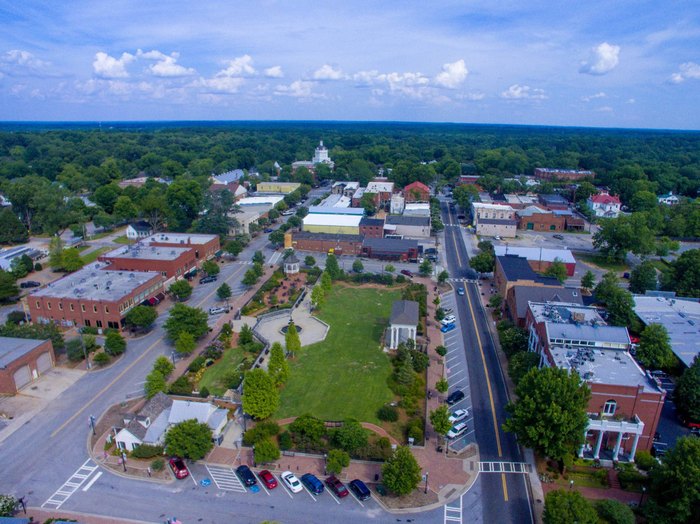 Have you ever visited this charming small town in Georgia? Share your favorite attractions in the comments! We'd love to update this Madison travel guide with your suggestions.
If you're looking for nearby places to check out, you won't want to miss the classic city of Athens, Georgia.
Not Your Average Bucket List Podcast
Only In Your State's podcast Not Your Average Bucket List takes a deep dive into Madison, Georgia and everything it has to offer. Our hosts, Marisa Roman and Sara Heddleston, discuss what their "Perfect Day" in Madison would consist of. From wildlife hiking trails to sleeping in a cottage by the ocean, take a look at the infographic below to get your own suggestions for the perfect day exploring this small town.
To discover even more about Madison, Georgia in a fun, easily-digestible manner, tune in to OnlyInYourState's brand new podcast, Not Your Average Bucket List, where we talk all about this charming town. Listen now on Spotify and Apple Podcasts.
OnlyInYourState may earn compensation through affiliate links in this article.
Address: Madison, GA 30650, USA