The Best Waterfalls In Georgia: Local Favorites and Hidden Gems For Your Bucket List
Georgia might be known across the country for peaches and beaches, but there's more to this Southern state than stone fruit and sand. For starters, Georgia has an estimated 24.5 million acres of forest land, which comprises over 40% of the state. Within this wondrous wilderness, there are an estimated 700 waterfalls.
Yes — 700 waterfalls.
Georgia's waterfalls are abundant and plentiful, spilling from the North Georgia mountains via meandering streams, creeks, and rivers. These waterfalls range in size, from the thunderous, awe-inspiring wonders of Amicalola Falls and Panther Creek Falls, to the smaller babbling cascades at Sweetwater Creek.
There are double waterfalls and waterfall swimming holes in Georgia; walk-behind waterfalls; and, if you can believe it, even frozen waterfalls. There are no-hike waterfalls and epic, day-long waterfall-chasing adventures. There are superlative, stop-you-in-your tracks waterfalls, and seasonal surprises seen only after a winter thaw or heavy spring rain.
There are waterfalls all across the Peach State, you see; and today, we're indulging our waterfall chasing wanderlust and exploring the best waterfalls in Georgia.
Best Waterfalls in Georgia
With 700+ falls in the state, you don't have to go far to find a waterfall in Georgia. Waterfall chasing adventures abound in the Peach State; some falls, such as Amicalola Falls and Anna Ruby Falls, are proudly displayed — out in the open — for all to see, and others, such as Raven Cliff, require a bit more effort to reach.
From beautiful waterfall hikes and superlative cascades to cerulean-blue waterfall swimming holes and walk-behind falls, waterfall chasing is a celebrated pastime in Georgia, with these falls offering the most enchanting experience of the Peach State.
So the real question is: where does a waterfall chaser begin? What are the best waterfalls in Georgia? That's where we come in.
Here at OnlyInYourState, our insatiable appetite for wanderlust keeps us going, and waterfall chasing is perhaps our most favorite way to satisfy our adventure-seeking souls.
And in Georgia, unlimited adventures – and waterfalls – await. Here are the best waterfalls in Georgia that belong on every adventurer's bucket list.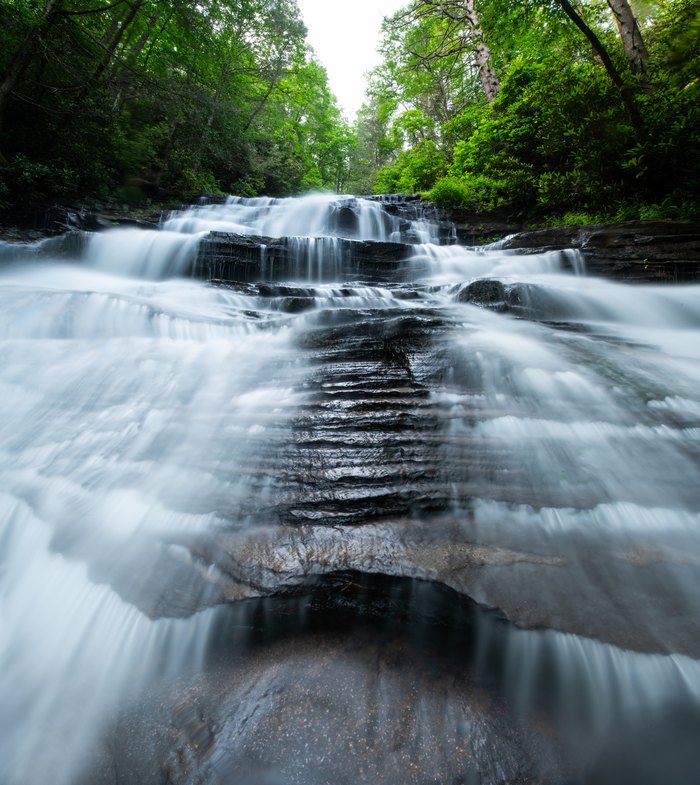 Top Waterfall Hikes in Georgia
There's nothing as amazing as happening upon a wondrous waterfall out in the wild; and luckily for those living in the South, there are some truly extraordinary waterfall hikes, seemingly around each and every forest trail and river bend!
Georgia's waterfalls are plentiful, resplendent, and incredibly varied, ranging from the commanding Amicalola Falls to the smaller cascades of the aptly-named Sweetwater Creek.
With literally hundreds of waterfalls all over the state (33 in Rabun County alone!), narrowing down the top waterfall hikes in Georgia was no easy feat, but we believe the following certainly qualify.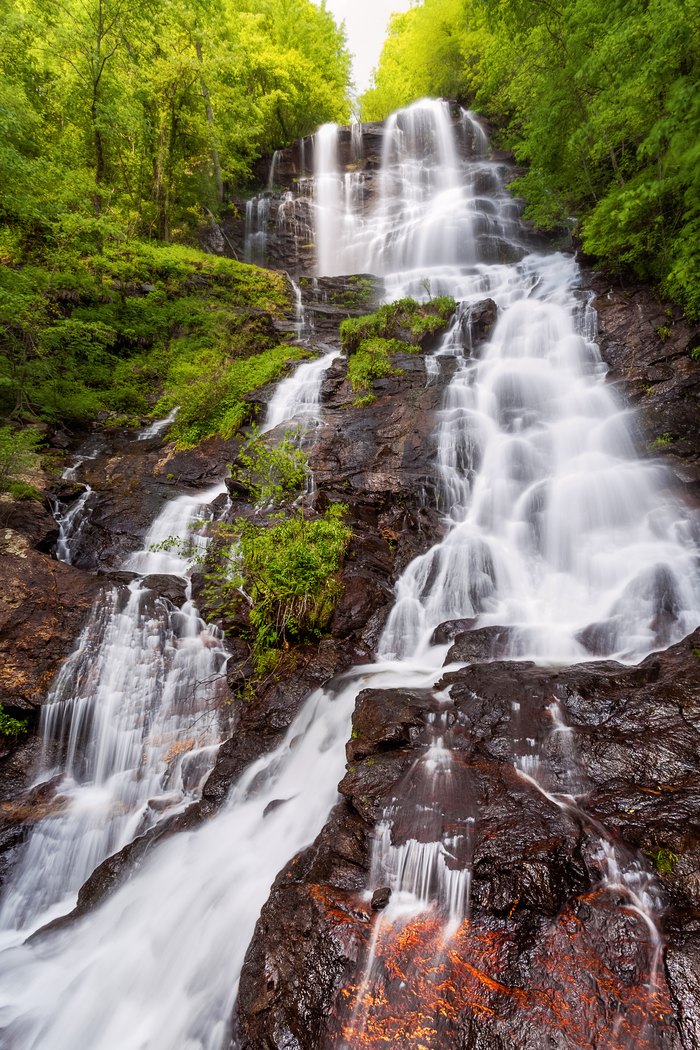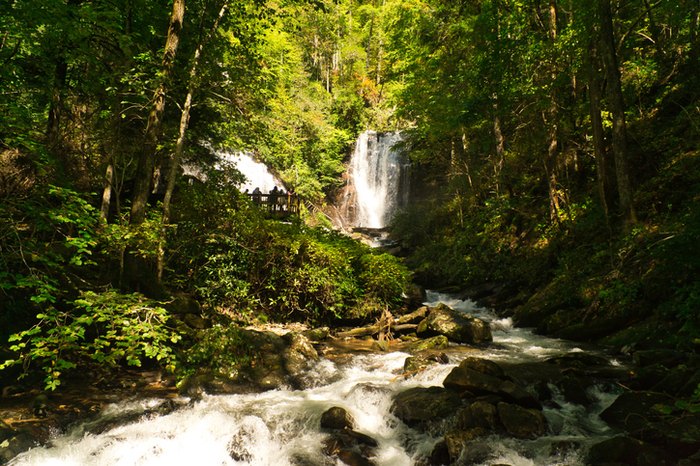 Easy Waterfall Hikes in Georgia
While we're all for lacing up our boots on an epic, all-day waterfall chasing escapade, there are times that call for a short-and-sweet waterfall hike, too.
Perhaps you're a newbie waterfall chaser in the Peach State, just finding your footing on the trails.
Maybe you have kids or folks of different abilities in your group and are looking for an inclusive or accessible waterfall-chasing adventure.
Or you're short on time, and can't carve out endless hours on the trails (you know, because of jobs and such…).
Whatever your reason — or if you have no reason at all — take heart: the following easy waterfall hikes in Georgia are sure to satisfy your waterfall chasing wanderlust, leaving plenty of fuel left in the tank for more adventures in the Peach State!
No-Hike Waterfalls in Georgia
It's an irrefutable fact that Georgia has some of the most beautiful waterfalls in the entire country — for proof of this, simply check out any of the above cascades.
The best part is, Georgia's waterfalls really are for everyone to enjoy: often hidden right in plain sight and requiring little more than taking a few steps from your car — or, in some cases, viewable right from the road!
Come with us on a waterfall chasing adventure — minus the chase! — at one of these wondrous no-hike waterfalls in Georgia.
Best Waterfall Swimming Holes in Georgia
When the heat and humidity of summer descends upon the Peach State, the best course of action is to take to the water. And while Georgia's beaches and isles are truly sublime in the summer, there's something undeniably alluring about a waterfall swimming hole.
With their cool, cerulean-blue waters, continually fed by a roaring, resplendent waters, these little oases are Mother Nature's very own infinity pools.
And Georgia is teeming with them.
Here are our picks for the best waterfall swimming holes in Georgia that will surely inspire you to make a splash!
Best Hidden Gem Waterfalls in Georgia
In a state that's home to some 700 wondrous waterfalls, there are some truly spectacular falls that remain stubbornly under the radar… much to our delight.
Because the fact is, Georgia's best and most legendary waterfalls are so popular and beloved, that they are visited by throngs of waterfall chasers and admirers, making for a crowded experience.
These hidden gem waterfalls in Georgia are true natural beauties; well-worth seeking out the next time you're up for a bit of an off-the-beaten path adventure.
Map of Georgia Waterfalls
Summary
The Peach State is positively teeming with natural wonders, from the summit of its very own Grand Canyon to the depths of its subterranean caves. In between, lush forests, valleys, rivers, and streams are home to hundreds (and hundreds) waterfalls: enchanting, beguiling, breathtaking waterfalls.
Whether you're an advanced hiker, new outdoorsman, or somewhere in between, the waterfall chasing adventures in Georgia are plentiful, with these natural wonders just waiting (often in plain sight!) to be explored, experienced, and admired.
OnlyInYourState may earn compensation through affiliate links in this article.
More to Explore
Best Waterfalls in Georgia
What are the best waterfall hikes in Georgia?
In case you couldn't tell by the article above, we're crazy about waterfalls here in Georgia! And there's perhaps nothing better than getting out on the trails for an epic waterfall-chasing adventure in the Peach State. When our waterfall wanderlust becomes too deep to ignore, the following waterfall hikes in Georgia always hit the spot:
Dick's Creek Falls Trail. Dick's Creek Falls Trail is located near Antioch, Georgia and is moderately trafficked compared to other waterfall hikes. Just one mile out and back, this trail begins with driving a majority of the way before hiking the remainder to the falls. Cascading down a 60-foot bluff, you'll enjoy the views of one of the most stunning waterfalls in the state. The trail is also home to an excellent swimming hole in Georgia.
Related Articles
Explore Georgia