A Trip To This Unique Park In Florida Is Simply Unforgettable
Are you tired of the same old attractions and theme parks? If you've lived in Florida your whole life, you've probably been to most of the major ones (several times). Are you ready for a breath of fresh air?
If you've been looking for a fun way to relax or to foster a lifelong love of nature in little ones, this incredible park is a great place to start. Safari Wilderness Ranch in Lakeland opened in 2012 to provide the perfect wetland environment for encounters with several species of exotic animals.
Visitors can ride in a canopied safari vehicle through the surrounding wilderness, AKA The Green Swamp. If that's not enough adventure, guests can take a camelback expedition, horseback safari (on beautiful and gentle Haflinger horses) or even a kayak tour of the ranch. Other animals (both exotic and native) that can be found on the ranch include water buffalo, red lechwe, ostriches, zebras, ring-tailed lemurs, spoonbills, herons, and bald eagles, and many more.
The number of daily visitors to the park is limited, so there are never crowds or lines. The experience remains peaceful and relaxing for the animals as well as the visitors. Though this unique sanctuary is neither a theme park or a zoo, it is accredited by the Zoological Association of America. Safari Wilderness Ranch is conveniently located about an hour's drive from either Orlando or Tampa, making it a no-brainer for your next family vacation.
Scroll down to get an idea of what to expect when visiting the ranch: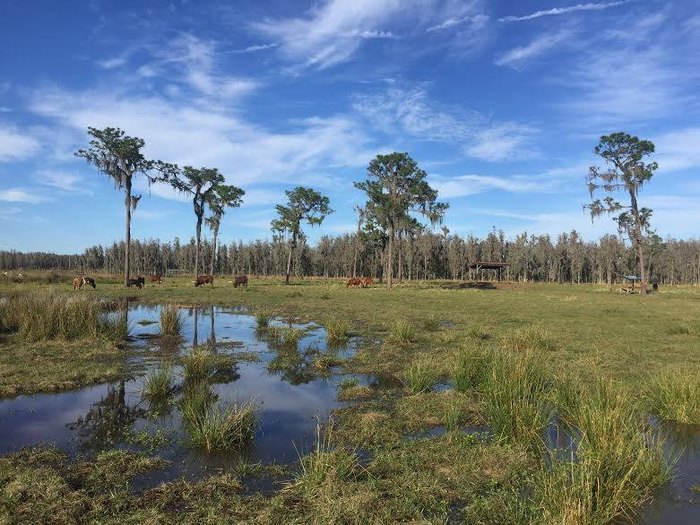 Visit the Safari Wilderness Ranch website to book the adventure of a lifetime.
Looking for more adventure? Check out these 13 Epic Outdoorsy Things In Florida Anyone Can Do.
OnlyInYourState may earn compensation through affiliate links in this article.