12 Bizarre Roadside Attractions In Florida That Are Fascinatingly Weird
The Sunshine State has a long history as a tourist destination, and thanks to that distinction, there are also many weird roadside attractions in Florida. This is probably because we've had so much time to create some of the weirdest attention-seeking landmarks and offbeat attractions in Florida. From awesome photo opportunities to day-trip-worthy adventures, you'll want to add these weird Florida attractions to your must-visit list. Check out these weird attractions in Florida that are sure to make any road trip special.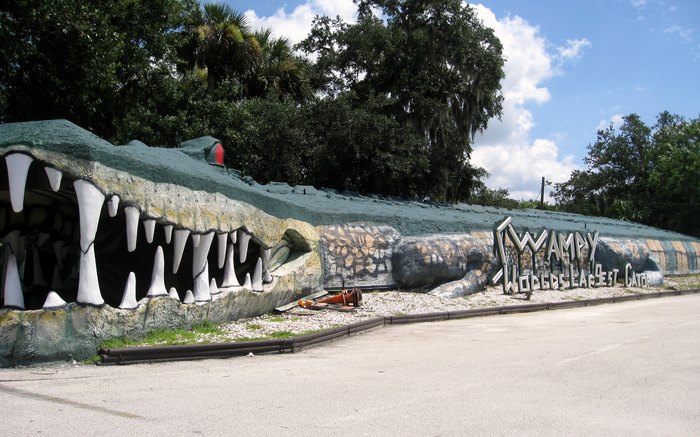 Have you seen all of these weird roadside attractions in Florida? While you're cruising around looking for all the offbeat attractions in Florida, you're likely to get hungry, so be sure to check out these 14 Awesomely Weird Florida Restaurants.
OnlyInYourState may earn compensation through affiliate links in this article.
More to Explore
Roadside Attractions In Florida
What are the best road trips to take through Florida?
Florida has some pretty awesome road trip opportunities, not just because the state is so large. Taking a road trip through Florida can mean a lot of different things, whether it's traveling along the beautiful coastline or heading inland for some weird and wacky fun. But sometimes the hardest part is knowing which road trip to take and why. If you're stuck on the planning process, then here are 7 of the most unforgettable road trips to take in Florida.
What bizarre trait is Florida known for?
The truth of the matter is, as much as there are weird places in Florida, there're also a ton of weird things to do and weird people as well. The running joke in the news is the "Florida Man" headline, which tends to pop up often and usually with some bizarre story to follow. If you want to take a deep dive into those types of headlines, have at it! But if you also want to check out some of the weirdest places that Florida has to offer, click here.
What are some unique things to do in Florida?
While Florida does have some weird and wacky stuff, there are also other unique things to do in Florida that might be more your speed. For instance, you can visit the best beach in the world, known as Siesta Key on the west coast. Or, you can check out Coral Castle in Homestead, which was sourced and built single-handedly by one man. Check out this list of the most unique things you can do in Florida.
Related Articles