These 11 Awesome Diners In Florida Will Make You Feel Right At Home
Diners are an American tradition. We love their tasty classics and bottomless mugs of coffee served up at reasonable prices, often in delightfully retro digs. What could be better? We've rounded up some of the best diners in Florida, in hopes that you can find a new favorite near you.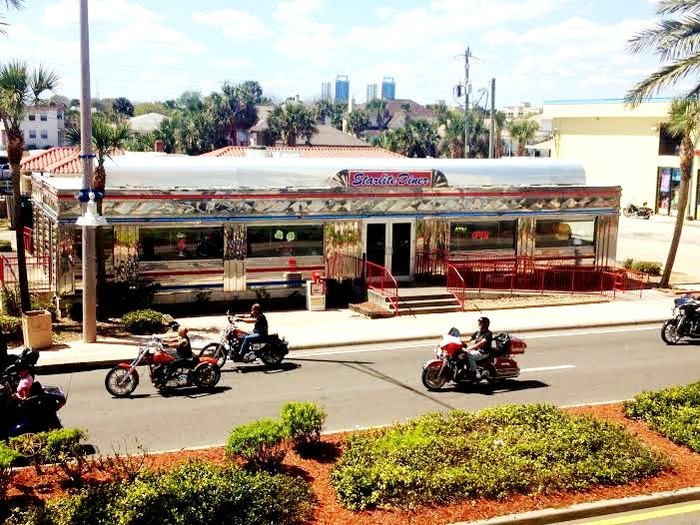 Have you been to any of the best diners in Florida? What's your favorite diner food? Share your thoughts with us in the comments below! And if we happened to miss one of your favorite eateries, nominate it for a chance to be featured.
If you're craving more comforting dishes, visit this breakfast cafe in Florida.
OnlyInYourState may earn compensation through affiliate links in this article.
Address: 401 N Atlantic Ave, Daytona Beach, FL 32118, USA
Address: 250 FL-84, Fort Lauderdale, FL 33315, USA
Address: 9331 Tamiami Trail N #14, Naples, FL 34108, USA
Address: 1065 Washington Ave, Miami Beach, FL 33139, USA
Address: 3500 Oakwood Blvd, Hollywood, FL 33020, USA
Address: 3580 St Johns Ave, Jacksonville, FL 32205, USA
Address: 1031 N Federal Hwy, Hollywood, FL 33020, USA
Address: 7410 N Nebraska Ave, Tampa, FL 33604, USA
Address: Angel's Dining Car, 209 Reid St, Palatka, FL 32177, USA
Address: 2130 SW 34th St, Gainesville, FL 32608, USA
Address: 2339 Dr M.L.K. Jr St N, St. Petersburg, FL 33704, USA
best diners in Florida
September 23, 2020
What are the best retro restaurants in Florida?
It's always fun to take a walk down Memory Lane! And there's no better place to do that than at Howley's Restaurant. With its old-school atmosphere and no-frills eats, this cafe is one of the best retro restaurants in Florida! Bring your appetite and get ready to indulge in some truly scrumptious eats.
Where can I find the best hamburgers in Florida?
There are tons of amazing burger joints in Florida, but no place can quite compare with Burger Barn. For more than 15 years, this nostalgic eatery has served juicy burgers and tasty chicken wings. The cheap prices, scrumptious eats, and old-school vibe will keep you coming back for more. If you loved this place, you should also check out Andy's Igloo in Winter Haven. This drive-in will make you feel like you've stepped into the 1950s. Come see why everyone raves about this iconic hamburger restaurant in Florida!
What are the best places to find comfort food in Florida?
You'll find all kinds of wonderful comfort foods at Camelot Country Restaurant in Oak Hill. The breakfast and lunch specials will fill your stomach with happiness, but it's their meringue pie that really steals the show. Be sure to save room for dessert so you can savor these wonderful flavors. This place is an absolute must-visit.