18 Best Hikes in Delaware: The Top-Rated Hiking Trails to Visit in 2023
Delaware is one of those states that seems to have just about everything you could think of jam-packed into a small place. So, sure, it's small – but it's got huge soul, especially when it comes to the great outdoors. There are 17 amazing state parks and one pristine National Park in Delaware, all of which are chock full of hiking trails and other outdoor recreation opportunities. You'd be amazed at the sheer number of hikes that could reasonably be considered the best hikes in Delaware – it's all captivating.
Speaking of the best hiking trails, Delaware is (at the time of this writing) home to 49 amazing trails, covering almost 150 amazing miles of some of the most beautiful landscapes on the east coast. How on earth does one know where to begin when deciding where to hike? We went ahead and did the footwork for you, scouting out all the best hikes in Delaware for your hiking pleasure.
Some of these trails are short – some are lengthy. Some are so easy that even small children can likely do them, and others are challenging through and through (but oh so rewarding). What better way to explore this stunning little state than on foot, traversing some of the best hiking trails of the eastern United States? The topography is incredible, the scenery is diverse, and you just can't go wrong with a lick of it. Ready to conquer every mile of trail Delaware has to offer? Try AllTrails+ for free, which is so handy you'll wonder how you ever hiked without it.
Best Hikes in Delaware
Let's get something perfectly clear: just about every hiking trail in Delaware is worth it. Our little state is otherworldly in its beauty, and every trail within every natural area has a story to tell as long as you're willing to listen. There are some, however, that are essentially Delaware Hikes 101. These are the most amazing trails that, when it comes to hiking in Delaware, you cannot possibly go wrong with. Next time you feel the need to find all the best places to hike in Delaware be sure to revisit this list. Many of the trails listed here are excellent for biking, too, so keep it in mind and always be safe.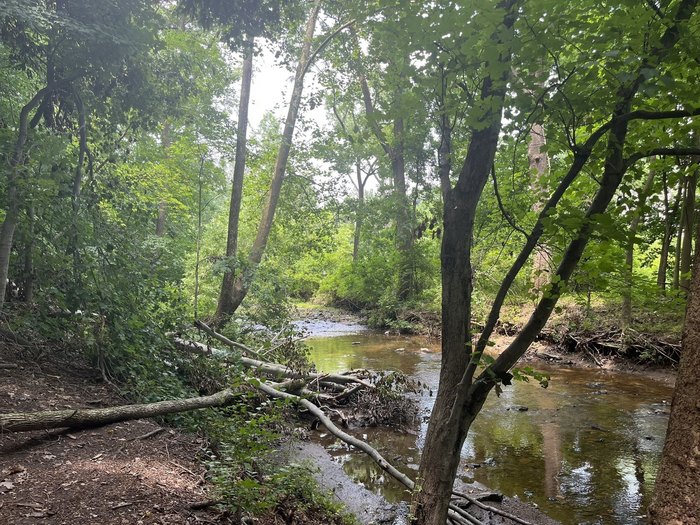 Best Short & Easy Hikes in Delaware
Sometimes, you're a little strapped for time. Maybe you don't have time to get lost in every state forest Delaware's got. In this case, you can always put a short-and-sweet hike in the books instead of something that takes hours at a time. Maybe you're hiking with kids and need something a little milder, or perhaps you just got out of work and don't have all day. No matter the situation, no worries – there are so many amazing kid-friendly hikes in Delaware that double as easy, short-sweet hikes you're sure to love for any occasion. Check out three of the downright best short and easy hikes in Delaware and plan your next outing ASAP.
Hardest Hikes in Delaware
So, what about the other end of the spectrum? Delaware is home to plenty of sweet-n-easy hikes, but what about the trails for those who prefer a challenge? No worries – Delaware's got plenty of those, and we've discovered the top three. Whether they're lengthy, feature drastic elevation changes or climbing, or anything else, here are a few of the toughest hikes in Delaware.
Best Waterfront Hikes in Delaware
Sometimes you just need to make a splash – especially if the weather is warm, but any time of year will do. If you like your Delaware hikes with a side of water, you'll love all the amazing waterfront hikes in Delaware there are to choose from. Here are three of the finest waterfront trails in Delaware that you'll never forget. Don't forget to stop along the way and dip your toes in. The water is fine.
Best Winter Hikes in Delaware
What about hiking trails in Delaware for those who like to live a little on the wild side? Everyone knows it gets cold during winter in Delaware (although autumn in Delaware is amazing too) is arguably the best time to come visit thanks to the temperatures and the color), but who says you can't go out and hike anyway – even when it's chilly? Here are three of the best winter hikes in Delaware, all of which are absolutely jaw-dropping when covered in a layer of fresh, flawless snow.
Best Hikes Near Dover, Delaware
Living in Delaware's capital city doesn't mean you can't go on some truly amazing hikes without getting too far away from home; there are plenty of excellent hiking trails in Delaware that happen to be in or near the city of Dover, and all of them are wonderful. You can't possibly go wrong with choosing any single one in particular, but if you're up for it, we recommend trying them all. There's plenty of time; why not start with these ones?
Are there many things in this world more amazing than all the hiking trails in Delaware? We think not, and once you've begun exploring them, we expect that you'll agree. Delaware is a state that manages to pack a heavy punch in terms of amazing places to hike, and it's easy to be totally hypnotized by its wonder. So get out and explore: there's a whole world out there waiting.
OnlyInYourState may earn compensation through affiliate links in this article. As an Amazon Associate, we earn from qualifying purchases.
More to Explore
Best Hikes in Delaware
Does Delaware have good hiking trails?
Delaware is home to an absurd number of excellent hiking trails, especially when stacked up to its small size. At the time of this writing, there are over 200 amazing hiking trails in Delaware to choose from. The great outdoors is always a treat... especially in Delaware. Some of the best places to go hiking in Delaware are:
White Clay Creek State Park
Bellevue State Park
Trap Pond State Park
Learn more about the most magnificent hiking trails in Delaware.
What are the best months to hike in Delaware?
Delaware is a beautiful state that experiences all four seasons, and as a result, it's always a good time to hike Delaware! There are some awesome trails for every season, like:
Spring - Mt. Cuba Center has some of the best wildflowers in Delaware this time of year.
Summer - The Newark Reservoir is calling your name.
Fall - Trap Pond State Park is famous for its amazing fall color displays.
Winter - Killens Pond Loop Trail is astonishing when covered in snow.
What are the most popular hiking trails in Delaware? 
Delaware has a decently-sized handful of hiking trails that can easily make a "most popular" list, as some of the state's hikes are clearly more beloved than others. A few of the most popular trails in Delaware include:
Gordon's Pond Trail
Brandywine Creek River Loop
Swamp Forest Trail
Alapocas Woods Trail
Lenape Loop South, Middle Run Natural Area
Learn more about the top ten most popular hikes in Delaware.
Related Articles
Explore Delaware