8 Lazy Rivers Around Washington DC That Are Perfect For Tubing On A Summer's Day
In the past, we've featured some of the best river tubing in the DC area. Washington, D.C. is close to several perfect tubing rivers where you can relax and float your worries away all summer. When you need to soak up the sun and be in nature this summer, look no further than these eight awesome lazy rivers for tubing near DC!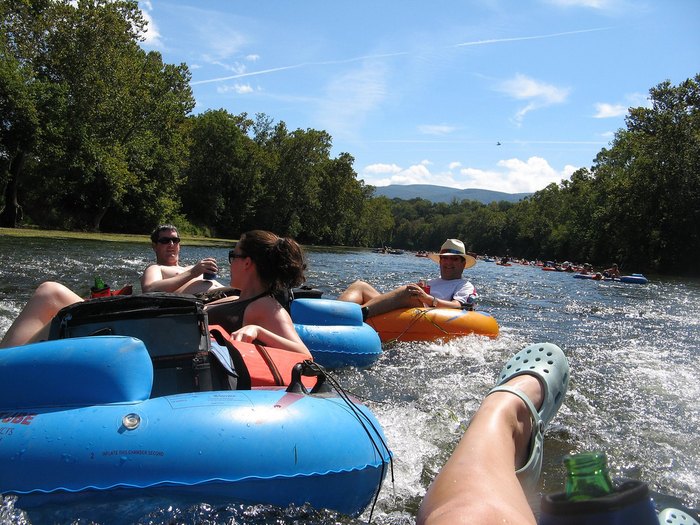 8. Deer Creek – Maryland

Deer Creek is in Harford County in Rocks State Park. Most people bring their own tubes and float from Hills Grove to Wilson's Picnic area. Park staff or rangers should be able to direct you to proper launch and haul-out spots. While it can be crowded on the weekends, Deer Creek offers some of the best tubing near Washington DC, and it's a beautiful and easy outing for Washingtonians!
Where will you be tubing near DC this summer? If you want a little more action in nature, be sure to check out this amazing natural waterslide near DC.
OnlyInYourState may earn compensation through affiliate links in this article.
More to Explore
Lazy Rivers in DC
Where are some of the best rivers to float near DC?  
Washington, DC is a great place, in part, for its location: it's close to all kinds of wonderful places, natural and man-made, that make for excellent things to do. For example, did you know there are a bunch of great opportunities to go river tubing in and near DC? It's true! Some of our favorite rivers for tubing near DC include the Shenandoah River, which is home to numerous companies offering excellent tubing opportunities, and the Potomac River, which is excellent for anyone looking for a whitewater-friendly challenge.  
Where can I go tubing near DC?  
Of course, you can always tube the above-mentioned Shenandoah and Potomac Rivers, but there are lots more rivers near Washington DC perfect for tubing! We're particularly fond of the Patapsco River, which can be found at Patapsco Valley State Park, which includes a wonderful 1.8-mile float adventure that you won't soon forget. Another popular option for tubing near DC is tubing the New River, about four hours away from the city of Blacksburg, Virginia. And don't forget the amazing James River, south of DC near Richmond, Virginia, which is mostly relaxing but does include some exciting rapids in certain spots!  
Which rivers near Washington DC are there?  
DC is located right on the Potomac River, but it's not the only river in the region. In fact, there are plenty of other rivers near Washington DC that are definitely worth the adventure! Some of these nearby rivers include the Anacostia River, Foundry Branch, James Creek, Hickey Run, and Maddox Branch. Amazingly, these aren't even close to being the only rivers in the region. There are dozens of tributaries, creeks, rivers, brooks, and other bodies of water that flow into the Potomac, making DC an excellent location for anyone who finds river systems interesting (or scenic). Our rivers are some of the most scenic locations in Washington DC – explore them and find out!  
Related Articles
Featured Addresses

Rocks State Park, 3318 Rocks Chrome Hill Rd, Jarrettsville, MD 21084, USA