This Entire Neighborhood In Connecticut Was Mysteriously Abandoned And Nobody Knows Why
YouTube user The Urban Archaeologist made waves when he revealed there was an entire abandoned neighborhood in Southbury, a fact that many Connecticut residents were not aware of. His creepy video shows what appears to be a charming collection of cottages that were actually residences of Southbury Training School staff, except that they're all now completely abandoned. Curious as to how this came to be one of the abandoned places in Connecticut? Check it out below: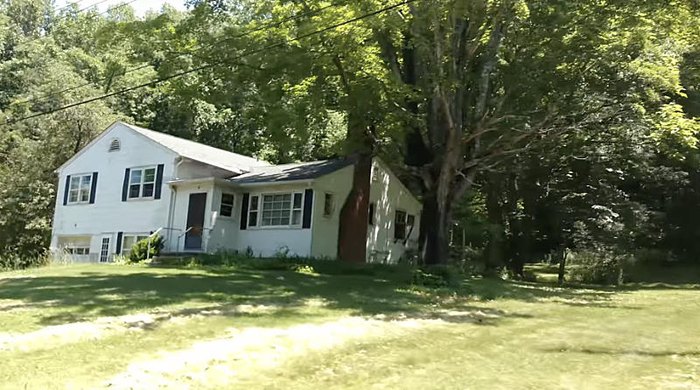 You can watch the whole tour of this abandoned neighborhood in CT:

Check out this drone footage for a look at the big picture:

So, what do you think? The old Southbury Training School is pretty creepy, right? Have you ever seen this neighborhood or any other abandoned schools in CT?
Come take an explorer weekend getaway to Southbury (it really is a charming little town) to take a drive through this fascinating neighborhood. This historic carriage house that was built in 1795 is a delightful place to stay.
For another abandoned neighborhood with a curious story, check out Johnsonville, another of the very interesting abandoned places in Connecticut. (It was even for sale!)
OnlyInYourState may earn compensation through affiliate links in this article. As an Amazon Associate, we earn from qualifying purchases.
More to Explore
Neighborhood In Connecticut
Have there been any famous hauntings in Connecticut?  
As luck (well, maybe bad luck) would have it, yes! Here are a few famous hauntings in Connecticut:

The Haunting In Connecticut
There was a hit movie made about one of Connecticut's most famous hauntings called The Haunting in Connecticut. It's based on the allegedly true nightmare story of the Snedeker family; when they moved into a new home that they later learned, to their horror, was once a funeral home, they noticed bizarre and increasingly terrifying things happening. Allegedly, the water in the faucets of the house would turn blood red and smell of decaying flesh. The Snedekers claimed they were the victims of numerous physical attacks by the "demons" they said shared their home. Eventually, famed paranormal researchers and demonologists Ed and Lorraine Warren were contacted about the goings-on, and the rest, as they say, is history.  
What are some good Connecticut ghost stories? 
Some good Connecticut ghost stories revolve around these locations:
Litchfield Inn

Captain Grant's
Connecticut is a great state for ghost hunting and is the subject of lots of interesting and eerie ghost stories. Lots of the hotels around the state claim they've got spirits of their own within their walls and each one of them comes with some creepy tales. For example, the Litchfield Inn, in Litchfield, is said to be haunted by the spirit of a Native American woman who likes to haunt the kitchen and dining room. There's also the infamous Shubert Theater, in New Haven, where a ghost has been reported several times causing mischief and mayhem in the halls. In Preston, Captain Grant's 1754 is a famously haunted place, where disembodied voices are the norm, and so are mysteriously disappearing objects. Interested in checking out some of these terrifying haunted places in Connecticut? Check out this article for some spooky inspiration. 
Where are some interesting, abandoned places in Connecticut? 
Some interesting abandoned places in Connecticut include:
Connecticut is home to plenty of interesting (and totally creepy) abandoned places. Some of the more famous ones include the old Union Pond Mill, in Manchester, which was once a busy Victorian-style mill but now stands entirely forgotten. In Newington, the Cedarcrest Hospital is a rotting testament to old-school tuberculosis wards, rotting by itself in an otherwise quaint and quiet area. In Danbury, you can find an abandoned castle (seriously!), and a decaying resort being quickly reclaimed by nature can be found in East Haddam.
Related Articles
Explore Connecticut
Featured Addresses