This Restaurant In Connecticut Has Its Very Own Fairy Garden And You'll Want To Visit
Connecticut is a small state and after you live here for a while, you may think that you know all of the fantastic places to visit. But every once in a while you can stumble across a spot that completely takes you by surprise. Many people have never been to this Connecticut restaurant with its own fairy garden. It is completely unexpected and may be one of the few secret treasures left in the Nutmeg State.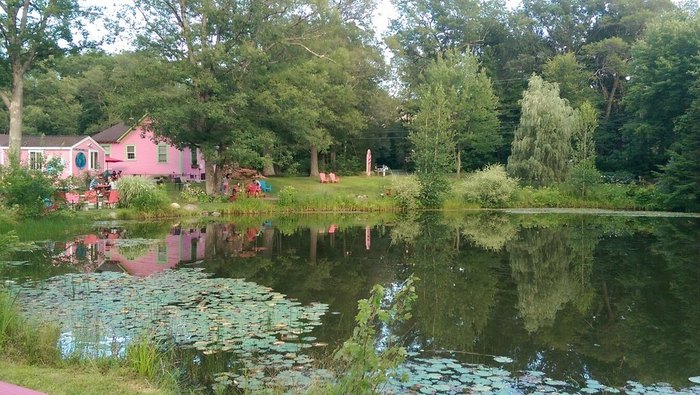 What do you think? Isn't this Connecticut restaurant with its own fairy garden the most charming place you've heard of lately? Share your thoughts in the comments section below.
If you love whimsical places like this garden then you need to take a look at this Alice in Wonderland tea room for a fairytale experience.
OnlyInYourState may earn compensation through affiliate links in this article.
Address: 198 E Hampton Rd, Marlborough, CT 06447, USA
Hidden Gems In Connecticut
August 13, 2021
What are some hidden gems in Connecticut?
While the most popular attractions like Mystic Aquarium are always fun to visit, there's something about hidden gems around the state that are so alluring. In our list of 7 Hidden Gems In Connecticut You Need To Check Out, you can read about some of the lesser-known and therefore, less crowded places to visit. In Hartford, there's Connecticut's Old State House which is home to Joseph Steward's Museum of Curiosities located on the third floor. This curious museum has plenty of taxidermied animals including a two-headed calf. Another place to visit that's filled with nostalgia is the PEZ Museum in Orange. You'll see just about every PEZ dispenser ever made at this fascinating museum.
What are some of the most unique restaurants in Connecticut?
The building a restaurant occupies is sometimes the characteristic that makes it so unique. At Present Company in Tariffville, you'll be dining in an old 19th-century textile mill as you dine on mouthwatering dishes like sea scallops, steak, wild boar, and other farm-fresh menu items. For a one-of-a-kind farm-to-table experience, Artisan Southport is a must-visit. The food here is made with fresh, locally sourced ingredients, some of which are grown on-site, and the tavern-like atmosphere is hard to beat. 
What are some of the most fun things to do in Connecticut?
Some of the most fun you can have in Connecticut is to take a day trip to somewhere you haven't yet been. Read our 12 Very Best Day Trips You Can Possibly Take In Connecticut article for some ideas. Maybe you'll venture off to East Haddam for the day or spend hours relaxing on Walnut Beach in Milford. There are so many incredible places to explore around the state!