Take The Longest Float Trip In Connecticut This Summer On The Farmington River
No matter how summer rolls in each year, we can always expect the temperatures to eventually sizzle. When the humidity hits, you'll want to find a fun way to cool down. You can spend an action-packed day at a waterpark or take a plunge at the beach. But for a more relaxing way to beat the heat, embark on the longest float trip in Connecticut.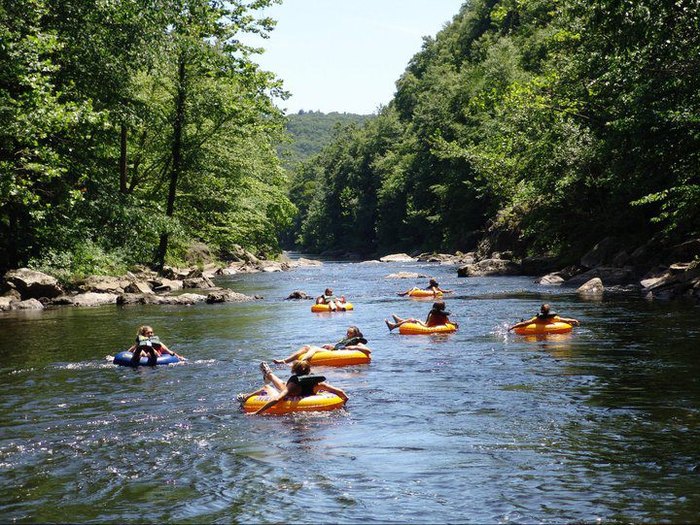 Have you ever taken the longest float trip in Connecticut? Share your experience in the comments! Summer is long and you'll be looking to enjoy all of Connecticut's water attractions. Check out this giant inflatable water park that brings out the kid in everyone.
Address: Farmington River Tubing, 92 Main St, New Hartford, CT 06057, USA
Longest Float Trip In Connecticut
May 01, 2020
Where else can I go river tubing in Connecticut?
While Farmington River Tubing is the premier river tubing in Connecticut, you can also enjoy a leisurely day on an inner tube at Lake Compounce in Bristol. The popular seasonal park boasts a spectacular lazy river. The Croc-O-Nile is perfect for a bit of relaxing on the crystal clear water as the sun shines down. However, that's just the start of the fun at Lake Compounce, which also features water slides and Mammoth Falls, an epic family tubing adventure you really have to experience to believe. If you need to cool down quickly, stand under the Clipper Cove and wait for 300 gallons of water to fall down on you.
What are the most popular water sports in Connecticut?
Floating just might be the most popular of all the water sports in Connecticut. However, you might also want to try kayaking in Connecticut. Indian River Marina, in Clinton, for example, is an ideal spot to rent a standup paddleboard or a kayak. Once you've chosen a kayak, head out onto the water. You can even join a sunset paddle tour or a moon light paddle tour.
If you prefer letting someone else do the paddling, join a tiki boat tour with Captain John's Tiki Tours. Scenic tours are available during the day and in the evening.
What are the best outdoor summer activities in Connecticut?
Starting to plan your outdoor summer activities in Connecticut? You've got a ton of choices to make. Yearning for some of winter's best activities in the summer? Go tubing and skiing – without all of the snow and in your summer clothes – at Powder Ridge Mountain Park & Resort in Middlefield. You can even go ziplining.
Summer and the beach just go hand-in-hand and so does a visit to Ocean Beach Park in New London. The family-friendly park features the state's longest boardwalk, tons of delicious food, and a full menu of activities – from an arcade to waterslides.
Address: Farmington River Tubing, 92 Main St, New Hartford, CT 06057, USA