Each Of These 6 Abandoned Places In Connecticut Has A Story To Tell
Have you ever found yourself picking up your phone and searching for "the creepiest abandoned places in Connecticut?"  While some take to the internet to seek out such spots, others stumble upon them by sheer accident. Whether you are hiking through the many beautiful trails of Connecticut or driving down an old road, when you find an abandoned building, there are always questions about the story of an empty old mansion or a lonely roadside diner that no longer has patrons to serve.
There's just something about these places that intrigues us and makes us want to know more about the stories behind the buildings and ruins — and the spirits that might still reside within … if you believe in that sort of thing. Here are six abandoned places in Connecticut that you won't have to wonder about any longer.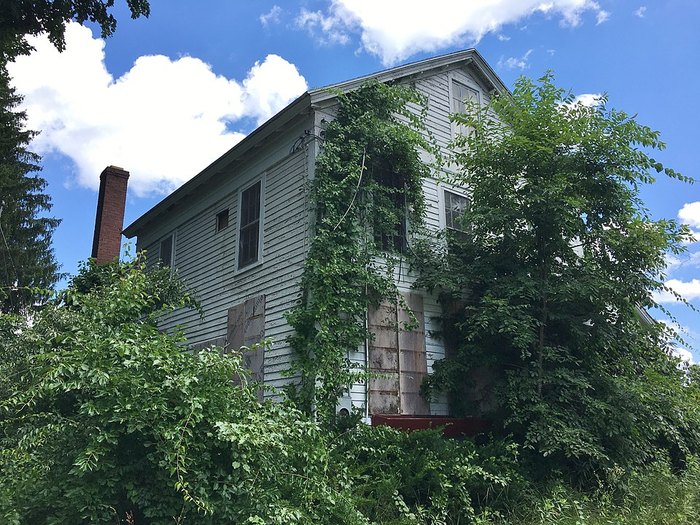 Now that you've learned about some of the most famous and fascinating abandoned places in Connecticut, you might be thinking about abandoned buildings you've encountered during your own travels through the state. We'd love to hear from you, so share your memories of any of the spots above or recommend another intriguing abandoned building in Connecticut by completing our official nomination form.
Looking for something even spookier? Follow our haunted Connecticut road trip route.
Address: Sunrise State Park, 121 Leesville Rd, Moodus, CT 06469, USA
Address: Hearthstone Castle, 18 Brushy Hill Rd, Danbury, CT 06810, USA
Address: Shade Swamp, Farmington, CT 06032, USA
Address: Seaside Sanatorium a Connecticut State Park, Seaside Dr, Waterford, CT 06385, USA
Address: East Haddam, CT, USA
Spooky Places In Connecticut
September 09, 2022
Are there any other spooky places in Connecticut?
While the abandoned buildings in our above article are decidedly creepy, they aren't the only eerie destinations in our state. If you're searching for a spooky adventure that won't require you to leave the car, drive down the most haunted road in Connecticut. There are loads of legends surrounding Saw Mill City Road, so proceed at your own risk — and bring along a few very brave pals on your adventure!
What are the best haunted towns in Connecticut?
Looking for a full-blown day trip loaded with spooky fun? We recommend planning a journey to the creepiest small town in Connecticut. While you might be familiar with Burlington, its purportedly haunted history is not quite so well known. From abandoned structures to a time-worn cemetery, there's plenty here to satisfy your ghost-hunting desires.
Where can I find a haunted hike in Connecticut?
Do you prefer to experience the scarier side of life among the great outdoors? We've got you covered. There are plenty of places to stretch your legs throughout the state, but we recommend trekking along one of the most haunted trails in Connecticut. Located within Pachaug State Forest, this path combines natural beauty with plenty of frightening legends. Be sure to do your research before heading out for a jaunt!
Address: Sunrise State Park, 121 Leesville Rd, Moodus, CT 06469, USA
Address: Hearthstone Castle, 18 Brushy Hill Rd, Danbury, CT 06810, USA
Address: Shade Swamp, Farmington, CT 06032, USA
Address: Seaside Sanatorium a Connecticut State Park, Seaside Dr, Waterford, CT 06385, USA
Address: East Haddam, CT, USA