Everyone In Colorado Should Visit These Enchanting Urban Waterfalls
One of my favorite things about Colorado is that there is no shortage of outdoor adventures or incredible nature to behold. Are you craving a little outdoor time? Maybe some waterfall action? If you are too busy to escape the hustle and bustle of the city, don't worry; just visit one of these "urban" waterfalls that are within city limits (or pretty dang close), and stop googling "waterfalls near me".
Please note, Casa Bonita is temporarily closed.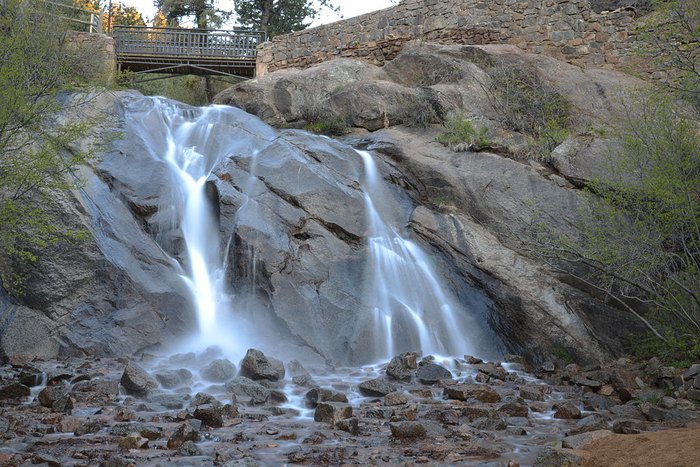 Which "urban" waterfall is your favorite?
Still looking for "waterfalls near me" in Colorado? This road trip leads to some of the finest falls — and caves — across the state!
OnlyInYourState may earn compensation through affiliate links in this article. As an Amazon Associate, we earn from qualifying purchases.
More to Explore
Waterfalls Near Me
What are the best waterfall hikes in Colorado?
Colorado is home to some of the best hiking in the entire country. Colorado has 58 mountains over 14,000 feet tall, (also known as "fourteeners" to major hikers), more than any other state in the United States. It also has four national parks, which combined make up some of the most interesting and beautiful hikes around. Among these hikes are waterfall hikes, and there are so many waterfall hikes in Colorado, it can be difficult to choose which ones to prioritize. If you are looking for the best waterfall hikes in Colorado, we are here to help!
Bridal Veil Falls
Most people will agree that Bridal Veil Falls Trail outside Telluride, Colorado, takes you to one of the most spectacular waterfalls in the state, and perhaps in the country. The Bridal Veil Falls Trail is only 2 miles, but there is a lot of elevation in those two miles. However, once you arrive, you'll be standing at the base of Colorado's tallest waterfall, staring at up water dropping from over 350 feet above. Bridal Veil Falls seemingly springs out of the cliffside, and is truly a remarkable sight unlike any you've seen before, and should be at the top of your waterfall hiking list!
Seven Falls to Inspiration Point
Seven Falls to Inspiration Point is a 3 mile hike found in North Cheyenne Cañon Park outside Colorado Springs, Colorado, and is a wonderful way to get an up close look at this massive waterfall. What is special about this waterfall hike is that you can take a staircase halfway up the falls to get an even better view of the tumbling water. This 181 foot waterfall has 7 different drops that carry the water down the cliffside, and these stairs will bring up to the base of the 3rddrop, giving you a view of the waterfall unlike any you've experienced before.
Related Articles
Explore Colorado