The Best Times And Places To View Fall Foliage In Colorado
It's fall, y'all! Labor Day is fast approaching, which means autumn is essentially here. To celebrate this momentous occasion, let us break out our scarves and PSLs and scope out when to see fall colors in Colorado. Our good friends at Smoky Mountains do the honor of releasing a fall foliage map every year, so let's take a look and see what the Colorado fall foliage map says this year: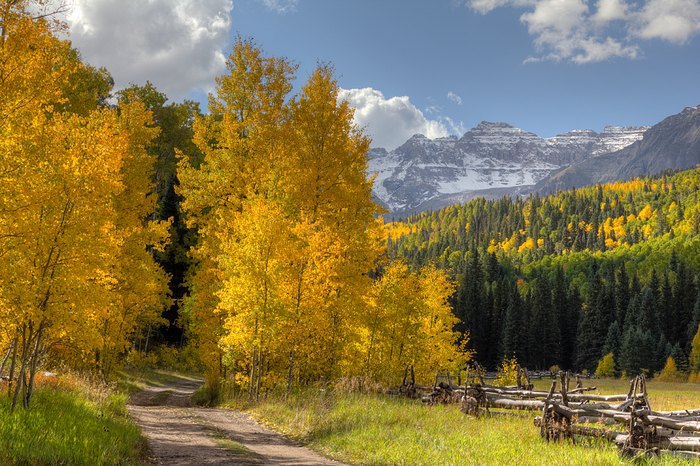 Discover even more Colorado fall foliage by checking out some of our favorite places to visit in Colorado in the fall.
Colorado Fall Foliage Map
September 12, 2022
When do the leaves change color in Colorado?  
Typically, from mid to late August, you'll see the leaves around Colorado – especially ones in higher elevations – begin to change. It's subtle at first, eventually evolving into an outrageously colorful display that rivals the best fall foliage the east coast has to offer. By mid-to-late September and into October, the transformation continues until it reaches an incredible peak in, usually, mid-October. Temperatures will begin dropping steadily from September on until the coldest month of the year – January – arrives. Remember that the higher elevations and northernmost towns and cities will see fall color begin and conclude earlier than the lowlands, so plan accordingly.  
Where can I find a fall foliage map for Colorado in 2022?  
Our hands-down favorite resource for fall foliage maps in Colorado is our friends at SmokyMountains.com. What started as a playful, fun thing to do in 2013 quickly evolved into the fascinating (and often correct) algorithms it is now, predicting when and where the best fall color in Colorado (and everywhere else) will be. You'll find copycat maps across the web, but the one provided by SmokyMountains.com is the all-original source for fall foliage predictions.  
Where will I find the best fall foliage in Colorado? 
We're pretty sure the best fall foliage in Colorado is, well, all of it. Everywhere you turn is sure to be brilliant and vibrant, filled with color, and absolutely worth a visit. Some of our favorite locations for fall colors in Colorado (they don't call us "Colorful" Colorado for nothing!) include the majestic Rocky Mountain National Park, namely, the Trail Ridge Road. It's one of the most amazing scenic fall drives in Colorado and is a must for locals and visitors alike. Kebler Pass in Gunnison is a popular spot for landscape photographers looking to catch the color at its best, and the San Juan Skyway is beyond incredible at this time of year. Other amazing places for A+ fall foliage include La Veta Pass, Buffalo Pass, the Dallas Divide, and the to-die-for Front Range foliage spectacle.