Take A Thrilling Road Trip To The 5 Most Abandoned Places In Colorado
No matter the season, a memorable road trip in Colorado is always a good idea. The following itinerary will take you – and anyone daring enough to join – on a trip to some of the creepiest places in Colorado. The landmarks we've outlined have been abandoned for decades and left to the elements to slowly wither away. Yet what remains is eerily beautiful in its own right, especially considering that many of the following abandoned places in Colorado are significant to our state's history. For the interactive Colorado ghost town map we put together for this adventure, you can visit Google Maps.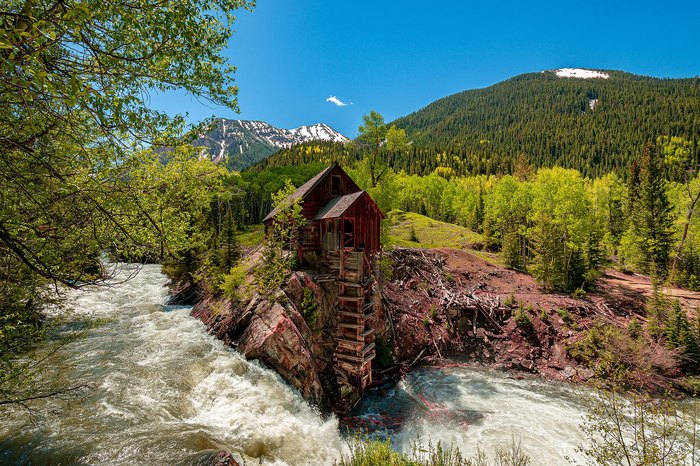 Who will you be taking on your epic road trip to these abandoned places in Colorado? Which items on this Colorado ghost town map did you know about already? If you can't get enough of amazing abandoned CO, don't forget to check out our other road trip itineraries, including this epic three-day restaurant road trip in Colorado that will make your mouth explode!
OnlyInYourState may earn compensation through affiliate links in this article.
Colorado Ghost Town Map
April 13, 2020
What is the most famous abandoned place in Colorado?
There are several abandoned places in Colorado that are worth checking out. Many of these famously abandoned landmarks have been outlined in the road trip above. Crystal Mill is perhaps the most famous of these abandoned places in Colorado. The 1892 wooden powerhouse is not only incredibly well-preserved, but it also happens to be among the most photographed places in the Rocky Mountains. It's accessible via a narrow rocky road that requires a 4x4. Many visitors enjoy traveling there in the fall when the changing leaves create a breathtaking backdrop.
What is the most haunted place in Colorado?
The abandoned ghost towns are some of the most notoriously creepy places in Colorado. Yet the title for the most haunted place in Colorado belongs to the Stanley Hotel. It's the landmark that notoriously inspired Stephen King's horror novel, The Shining, in the fall of 1974. This Estes Park property has been known to house restless spirits, friendly ghosts, and ominous apparitions of all kinds. In fact, many people reserve a night or two at the Stanley Hotel for the sole purpose of a paranormal encounter.
Can I go ghost hunting in Colorado?
Given the fact that there are so many haunted places in Colorado, it's not too hard to come by an opportunity for ghost hunting. In fact, the Stanley Hotel offers a nightly walking tour. This 75-minute adventure through the hotel has been known to attract the attention of Mr. F.O. Stanley and his wife Flora. It's also possible to take a ghost tour of abandoned mines in the mountains as well as notoriously haunted places in Denver, such as the Blake Street Vault.