Havasu Falls: A Waterfall Wonder Hidden Deep Within The Grand Canyon State
The Grand Canyon is a must-see destination and at the top of countless bucket lists. The breathtaking views, incredible scenery, and amazing wildlife are just a few reasons why this canyon is one of the most iconic American landscapes. However, there is so much more to see and do than just what you may notice from the popular overlooks, and to experience its true beauty, you've got to embark on a bit of an adventure just beyond the bounds of Grand Canyon National Park.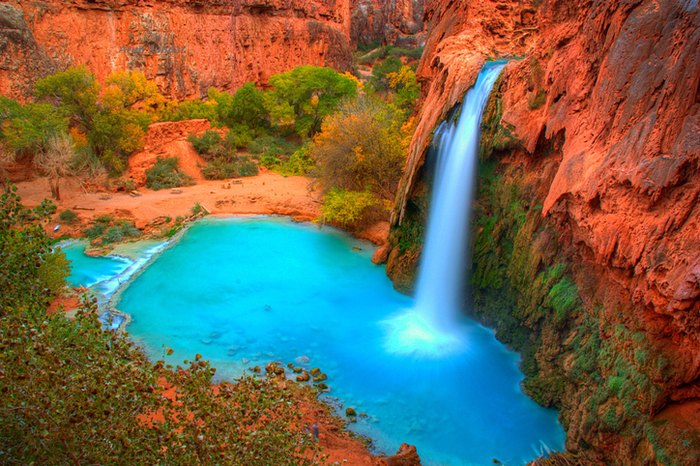 General Information: 
Accessibility: Havasu Falls offers little when it comes to wheelchair accessibility. The trails are unpaved, rocky, and steep, making them difficult to climb. You cannot access the falls, campground, or the village of Supai unless by foot or by an animal. Be aware that there is little emergency assistance in the area as well. You not only want to be prepared with food, water, good shoes, etc., for the challenging hike, but you will want to physically prepare your body as well.
Pet Friendly: Pets are generally not allowed on the trails and on the reservation. You may see some dogs while in Supai, but these are typically reservation dogs.
The area has strict rules on all pets. Animals are not allowed on any inner canyon trail and when above the canyon's rim, all animals must be kept on a six-foot leash at all times.
Parking: There is a trailhead parking lot at Hualapai Hilltop. It is an 8-mile hike from this parking area to the village of Supai. There are no services such as gas, food, or water in the area.
Seasonal Access: The trail into Supai is accessible throughout the year. However, all campers and hikers must receive a permit before they can enter the Havasupai Indian Reservation. All reservations and permits must be acquired prior to arrival. You can learn more about the reservation process here.
The campground is available from March to November of each year. The peak season for the campground is March to October.
Cost: The cost of a permit will vary from year to year. Permits become available on February 1 of the given year. You must purchase permits online.
Campground reservations are $100 per person per weekday and $125 per person for Friday, Saturday, and Sunday nights. These prices include all permits, fees, and taxes.
You can visit the National Park Service website to plan your upcoming trip.
Feeling inspired to fill your Bucket List? Check out our previous features of the Red River Gorge, Maroon Bells in Colorado, and the beautiful Florida Keys, then subscribe to our weekly Bucket List newsletter to discover new destinations across the country that definitely deserve a visit.
OnlyInYourState may earn compensation through affiliate links in this article. As an Amazon Associate, we earn from qualifying purchases.
Related Articles
Featured Addresses

Havasu Falls, Arizona, USA