19 Of The Tallest Waterfalls In America Are Sure To Leave You Breathless
There's something inherently magical about waterfalls. Whether you're reveling in the grandeur of the largest waterfall in the U.S., or simply taking in a babbling little cascade while on a hike, waterfalls are extraordinary natural wonders that really must be experienced in person. Happily, there are numerous bucket-list-worthy waterfalls across the country, so no matter which state you call home, you're guaranteed to be close to one of these wondrous falls. Today we're taking a tour of the tallest waterfalls in America. These are immense and commanding cascades sure to leave you breathless; fully immersed in a beautiful moment of complete awe and wonder.
For an interactive experience, we've partnered with our friends over at Roadtrippers so you can better plan your trip. Check out the map below!
The 19 Tallest Waterfalls Across America Are Sure To Leave You Breathless on Roadtrippers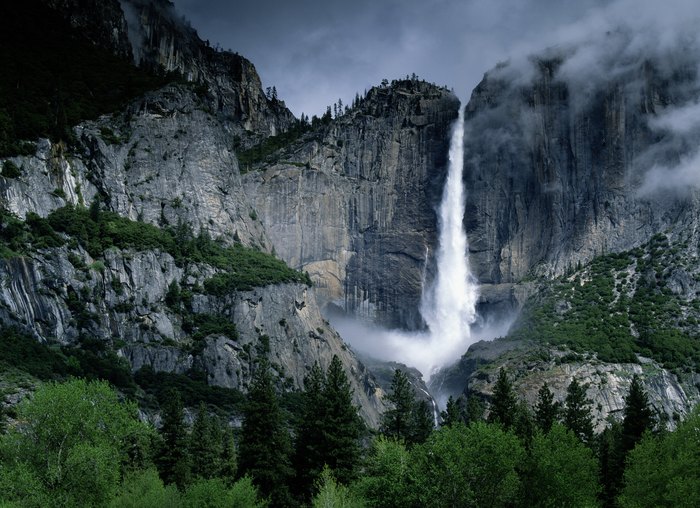 Waterfall chasing is a particular variety of wanderlust with which we're well familiar, and after seeing some of these showstoppers in person, we guarantee you'll want to chase them all.
OnlyInYourState may earn compensation through affiliate links in this article.
More to Explore
Best Waterfalls in the US
What are some other must-visit waterfalls in the U.S.?
Niagara Falls is, hands down, the most famous waterfall in the country. The first state park designated in the United States, Niagara Falls State Park attracts some 30 million visitors each year and is a true American icon. Draining Lake Erie into Lake Ontario, the falls — technically a set of three cascades — are one of the most powerful on the continent, with six million cubic feet of water flowing every minute. Niagara is a magnificent spectacle to see in person and a humbling reminder of Mother Nature's prowess. It's glorious and epic, yes, but there are wondrous waterfalls across the country that easily rival Niagara Falls. Below you'll find some other must-visit cascades that we consider among the best waterfalls in the US:
Hamilton Pool Preserve - Texas. Hamilton Pool

 isn't as much a single waterfall as it is an entire waterfall 

scene

. The limestone grotto formed thousands of years ago when the dome of an underground river collapsed due to erosion. Beneath its expanse, a 50-foot waterfall flows into the pool, creating a sublime, total sensory experience. Between the turquoise waters, mossy overhangs, caverns, and trickling falls (or 

dripping springs

), Hamilton Pool Preserve is easily one of the most enchanting waterfalls in the country.

Ruby Falls - Tennessee. The tallest underground waterfall in the country, Ruby Falls

 is an absolutely awe-inspiring spectacle that will stop you in your tracks. Everything about Ruby Falls is unique, from its underground location 

atop

 a mountain to its otherworldly caverns full of fascinating geologic formations and superlative stats. At 145 feet tall, Ruby Falls is an extraordinary spectacle, and there are many ways to experience the falls. The Lantern Tours are perhaps the most magical way to experience these underground falls; small groups are led through the caverns with hand-held lanterns as the only light source. Rock formations, pristine pools, and shadows dance before your eyes. Ruby Falls truly is an experience for any self-described waterfall chaser.

Cumberland Falls - Kentucky. Hailed as Kentucky's "Niagara of the South," Cumberland Falls is a majestic, 68-foot waterfall located on the commanding Cumberland River. Not only is Cumberland Falls

 an awe-inspiring force of nature, it's also the site of a natural phenomenon that's so rare, it's only experienced a few places in the entire world. Known as a "moonbow," this prismatic phenomenon is created when light refracts in the waterfall's spraying water droplets. The moonbow lingers above the falls for up to two days as long as the sky is clear, on either end of the full moon. One of the most spectacular and accessible waterfall trails in the country, the Moonbow Trail is a bucket-list must -- especially at night.

Great Falls - Virginia.

A jaw-dropping natural wonder in Virginia, at

Great Falls

, the Potomac River drops 50 feet and flows into Mather Gorge, creating a vision so stunning you'll feel as though you've entered a land before time. The falls are located within the eponymous park, a scenic and rocky stretch of the Potomac that twists and turns for 800 amazing acres, resulting in Class V rapids and abundant cascades. During cold spells, the falls often freeze over, making for a winter wonderland you won't believe is just minutes from our nation's capital.

 Wailua Falls - Hawaii.

In a state with arguably the highest density of waterfalls in the U.S., the waterfalls found on Hawaii's Kauai island are truly second to none. From the stunning Jurassic Falls you can only witness via helicopter tour to the ethereal "weeping wall," Kauai waterfalls are remarkable, but there is only one cascade magical enough to be called Hawaii's Niagara Falls. Surrounded by lush foliage and pouring 80 feet into a dazzling pool, 

Wailua Falls

is more beautiful than language can convey. Unlike many of Kauai's waterfalls, Wailua Falls is wholly, wonderfully accessible -- no hiking necessary. But while you can leave the hiking boots at home, definitely bring your camera: when the sun hits at just the right angle, a beautiful rainbow extending from the base of the falls into the mist will appear. It's a spectacular sight to behold, and one you'll hold in your heart forever!
Related Articles