Columbia River Gorge: Take A Scenic Trip Along The Beautiful Border Of Oregon & Washington
What comes to mind when you think of the Pacific Northwest? For most, it's the region's rugged natural beauty, hiking trails, forests, waterfalls, seafood, and craft beer & wine. You'll find all that and more simply by exploring the Columbia River Gorge, the largest natural scenic area in the United States.
The mighty Columbia River serves as the border between Oregon and Washington, and there are all sorts of treasures awaiting you on both states' sides. This world-famous windsurfing and kiteboarding destination has so much to offer, and each season brings a new kind of beauty to enjoy.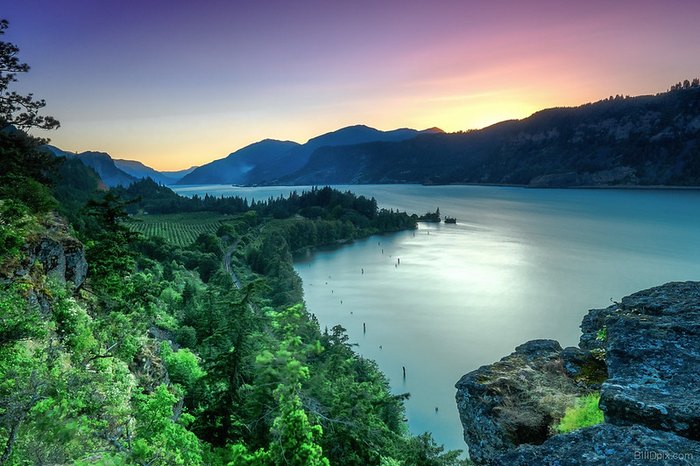 The Columbia River Gorge is full of splendid scenery, breathtaking wonders, and fantastic libations. Plan multiple visits in multiple seasons to experience all it has to offer.
General Information:
Accessibility: The Columbia River Gorge is massive and accessibility varies. There are several state parks with accessible parking and viewpoints. The majority of the hiking trails are not accessible, but some are. The Catherine Creek Trail on the Washington side, for example, is designed especially for wheelchairs and walkers. For a more comprehensive list, check out Accessible Nature.
Pet Friendly: The majority of the hiking trails allow leashed dogs, and many of the state parks, such as Beacon Rock, are dog-friendly. You might even see some dog-friendly breweries!
Parking: Designated parking lots and spaces can be found throughout the Columbia River Gorge, around scenic viewpoints and trailheads, and at various points of interest. Parking around Multnomah Falls can be tricky during high-traffic seasons, so the Columbia River Express offers daily bus service between Portland, Multnomah Falls, Cascade Locks, and Hood River on the Oregon side.
Seasonal Access: While you can drive the scenic highways and visit most of the businesses in any season, certain parts of the Gorge are only open seasonally. In addition, natural disasters such as wildfires or avalanches warrant temporary closures. To see what's open when planning your trip, visit the Ready, Set, Gorge website.
Cost: Some of the trails have required passes, and the state parks will require a Discover Pass to enter. To see a complete list of fees, visit this site.
Feeling inspired to fill your Bucket List? Check out our previous feature of Maroon Bells in Colorado, Ruby Falls in Tennessee, and Acadia National Park in Maine, then subscribe to our weekly Bucket List newsletter to discover new destinations across the country that definitely deserve a visit.
Address: Columbia River, Columbia River
OnlyInYourState may earn compensation through affiliate links in this article.