Blue Ridge Parkway: Blazing A Trail Through The Heart Of Appalachia
The Blue Ridge Parkway winds for 469 through southern Virginia and North Carolina and is easily one of the most scenic drives in America. This is an adventure that everyone should experience at least once in their lifetime! The Parkway runs along the ridge of the beautiful Blue Ridge Mountains through the heart of Appalachia, and you'll get a glimpse into a world that's otherwise quite hidden from view. Along the way, you can enjoy many activities like hiking, paddling, pedaling, and camping, and it's easy to find arts, and cultural activities happening year-round. There's truly something for every taste.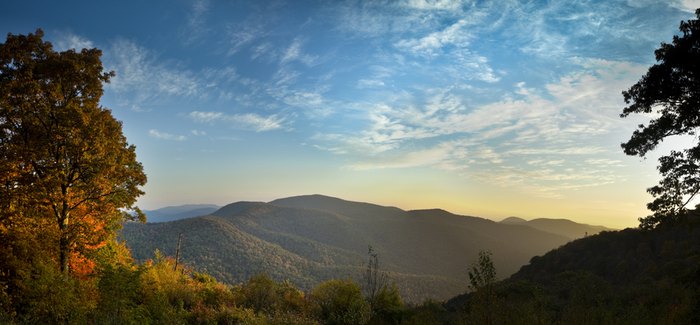 The Blue Ridge Parkway offers plenty of activities for the entire family, too. You can find opportunities for rock climbing, mining for gems, whitewater rafting, kayaking, and fishing. You can explore caves, explore natural bridges, and slide down Sliding Rock in North Carolina into one of the most popular swimming holes in the state.
General Information:
Accessibility: Many of the visitor centers and attractions along the Parkway are accessible to those with disabilities or mobility impairments, and there are designated parking spots for vans at most of the overlooks and viewing points along the highway. The Blue Ridge Parkway offers wheelchair-friendly trails at Price Lake, where you can relax by a waterfall. Access to the trailhead can be found at the Boone Fork Overlook, at mile 297.2 on the Parkway. There is also accessible fishing at Price Lake. At Peaks of Otter, there are multiple wheelchair-accessible trails, as well. For more information on accessibility along the parkway, click here.
Pet Friendly: Dogs are allowed on the parkway and connecting trails, but must be on a six-foot leash at all times.  Be aware that it is not uncommon to come across hunting dogs with tracking collars, and the crowded popular trails may be a bit overwhelming for leash-reactive dogs. Be sure to check the specific conditions of each trail before you head out on your trip, so you can make the best decision for your and your dog's safety.
Parking: There are dozens of overlooks along the Blue Ridge Parkway at the most scenic overlooks, and plenty of parking at most trailheads. The lots at the most popular trailheads do fill up early on weekends and holidays in peak seasons.
Seasonal Access: While the parkway is open year-round, it is not impervious to weather and hazards. In the winter, be sure to check your route! Rockslides also close some areas of the Parkway from time to time. You can keep an eye on the parkway status here.
Cost: The Parkway is not a toll road, and there is no cost to drive along and enjoy the scenery. Camping reservations in Parkway campgrounds do cost money, and Interagency Passes will get you a discount on your reservations.
For more information to plan your trip, visit the Blue Ridge Parkway's website from the National Park Service, here.
Address: Blue Ridge Pkwy, United States
OnlyInYourState may earn compensation through affiliate links in this article.