These 18 American Ghost Towns Will Chill You To The Bone
Contrary to their name, ghost towns are not locales filled with unsettled spirits. They are something completely different… and far eerier. Ghost towns are places that were once filled with busy, bustling streets, thriving businesses, and lively residents; then, over the course of months and years, these towns were all but abandoned, leaving many to wonder if they ever really existed at all. The U.S. is full of ghost towns: in the West, abandoned areas remain from the days of the Gold Rush; in the Pacific Northwest, evidence of old homesteads exists along the Oregon Trail; the Midwest is full of towns that once thrived during the Great Migration; while the South and Mid-Atlantic regions have their own ghost towns which harken back to the very first days of America. This fall as we enter the season of frightening and fun fantasies, trade the haunted houses for a real-life ghost hunt in these 18 American ghost towns.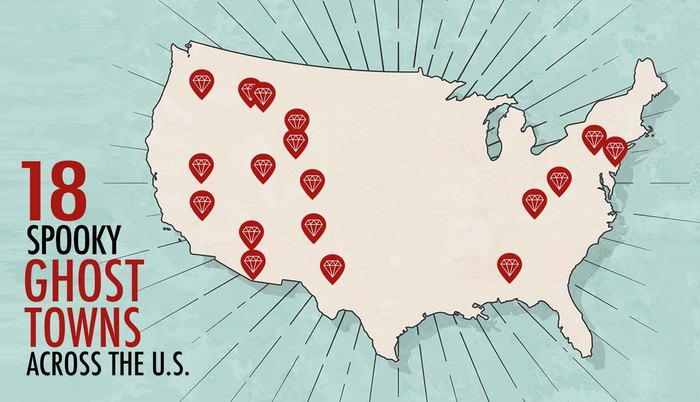 Ghost towns hold an irresistible attraction for explorers. Confronting the remnants of these once-thriving towns is a harrowing and haunting experience that will undoubtedly leave you grateful for the here and now. Many were abandoned over time due to economic hardships; others were immediately evacuated due to external circumstances; while some leave little evidence as to why they were deserted. Nobody wants to be erased from history, and that's precisely what time has tried — unsuccessfully — to do with these 18 locales. So visit, honor, and remember what these American ghost towns once were; and then leave with a sense of pride and purpose for your own place in history.
Fall is the season of spooky American adventures. Here are 19 of the most fascinating abandoned places in America you'll definitely want to add to your autumn bucket list!
Address: Blue Heron, KY 42647, USA
Address: Old Cahawba Archaeological Park, 9518 Cahaba Rd, Orrville, AL 36767, USA
Address: Batsto Village Road, Batsto Village Rd, Washington, NJ 08037, USA
Address: Saint Elmo, St Elmo, CO 81236, USA
Address: Frisco, UT, USA
Address: Calico Ghost Town, 36600 Ghost Town Rd, Yermo, CA 92398, USA
Address: White Oaks, NM 88301, USA
Address: Centralia, PA, USA
Address: Bodie, CA, USA
Address: Nevada City, MT, USA
Address: South Pass, Wyoming 82520, USA
Address: Cody, WY 82414, USA
Address: Ruby, AZ 85621, USA
Address: Goldfield Ghost Town and Mine Tours Inc., 4650 N Mammoth Mine Rd, Apache Junction, AZ 85119, USA
Address: Orla, TX 79770, USA
Address: Bannack, MT 59725, USA
Address: Thurmond, WV 25901, USA
Address: Shaniko, OR 97037, USA
OnlyInYourState may earn compensation through affiliate links in this article.