These 18 American Ghost Towns Will Chill You To The Bone
Contrary to their name, ghost towns are not locales filled with unsettled spirits. They are something completely different… and far eerier. Ghost towns are places that were once filled with busy, bustling streets, thriving businesses, and lively residents; then, over the course of months and years, these towns were all but abandoned, leaving many to wonder if they ever really existed at all. The U.S. is full of ghost towns: in the West, abandoned areas remain from the days of the Gold Rush; in the Pacific Northwest, evidence of old homesteads exists along the Oregon Trail; the Midwest is full of towns that once thrived during the Great Migration; while the South and Mid-Atlantic regions have their own ghost towns which harken back to the very first days of America. This fall, as we enter the season of frightening and fun fantasies, trade the haunted houses for a real-life ghost hunt in these 18 American ghost towns that just so happen to be the creepiest ghost towns in the US.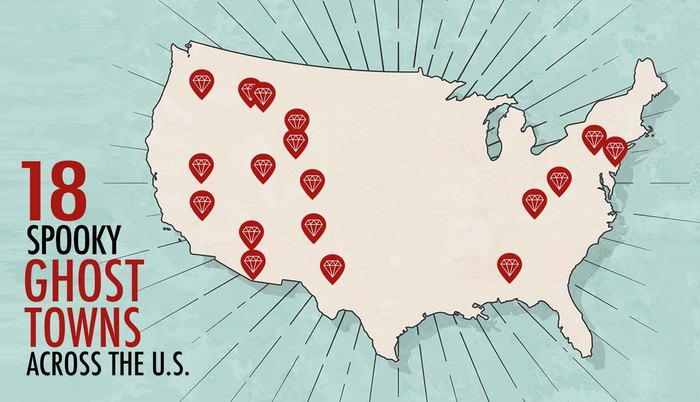 Ghost towns hold an irresistible attraction for explorers. Confronting the remnants of these once-thriving towns is a harrowing and haunting experience that will undoubtedly leave you grateful for the here and now. The creepiest ghost towns in the US were abandoned over time due to economic hardships; others were immediately evacuated due to external circumstances; while some leave little evidence as to why they were deserted. Nobody wants to be erased from history, and that's precisely what time has tried — unsuccessfully — to do with these 18 locales. So visit, honor, and remember what these American ghost towns once were; and then leave with a sense of pride and purpose for your own place in history.
Fall is the season of spooky American adventures. Here are 19 of the most fascinating abandoned places in America you'll definitely want to add to your autumn bucket list!
OnlyInYourState may earn compensation through affiliate links in this article. As an Amazon Associate, we earn from qualifying purchases.
More to Explore
More haunted places in the US
What are the most haunted houses in the US?
Sure, it's fun to visit American ghost towns that have been abandoned for quite some time, but if you want a real scare a haunted house is the ultimate creepy destination. Here are some of the most haunted houses in the US:
Sallie House, Atchison, KS: The story behind this haunted house in Kansas is pretty creepy. It involves a little girl and a botched surgery. A combination that sends your mind in all sorts of directions. In the 1800s, medical practices weren't what they are today so a simple appendicitis surgery could often go haywire. And it did. Throughout the years strange occurrences and freaky events have been reported. Unexplained voices, burnt finger marks on candles, and even physical attacks. But the worst part is, the little girl wasn't responsible for the worst of these events... Other ghosts haunt the property too.
Lava Hot Springs Hotel, Lava Hot Springs, ID: A hot springs hotel is supposed to be a relaxing destination, however, there is more than meets the eye at this particular spot. The building used to be a sanatorium. You just know there had to have been some pretty terrible things going on behind locked doors. Room 13 is particularly active with past spirits. If you visit, keep an eye out for Martha.
Shaker's Cigar Bar, Baraboo, WI: Houses and old sanatoriums aren't the only buildings that can be haunted. Shaker's Cigar Bar has a long storied history with plenty of tragedies since it opened back in 1864 as a boarding house. In its past, it has also been a honky-tonk saloon and a brothel. Today, you can still hear disembodied voices and catch a glimpse of ghostly apparitions.
Related Articles