The 4-Hour Road Trip Around Ozark's Waterfalls Is A Glorious Adventure In Arkansas
There's more than just a sea of green within Arkansas' Ozark National Forest. Some of the best waterfalls in the state are hidden between the trees! This Arkansas waterfall road trip highlights numerous bucket list-worthy falls. The drive can last anywhere from four hours to a full weekend, depending on how much exploring you want to do. Let's jump right in and take a scrolling tour of the Ozark waterfalls in Arkansas. And if you decide to hit the road for this adventure, make sure to use our ultimate road trip packing list so that you have everything you need!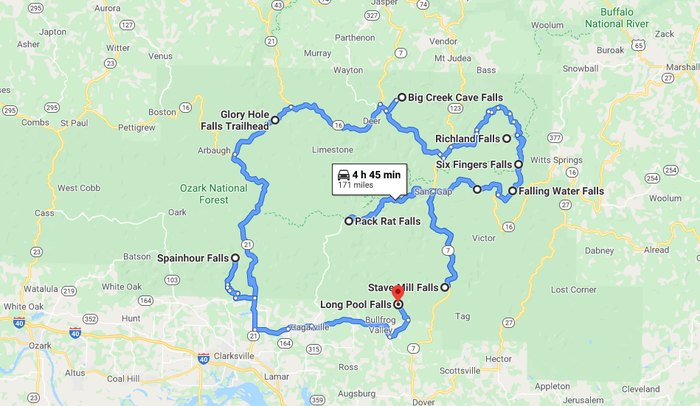 Which of these waterfalls in the Ozarks is your favorite? Is there another one along the way that deserves a pit stop? Share your thoughts with us in the comments below!
We would love to see your waterfall adventures in our Facebook group, Arkansas Nature Lovers. You should join for your chance to be featured and to discover why there's nothing better than Arkansas' stunning nature.
OnlyInYourState may earn compensation through affiliate links in this article.
Waterfall Road Trip In Arkansas
January 27, 2021
What are some other popular waterfalls in Arkansas?
In addition to the scenic falls from our waterfall road trip in Arkansas, there are a few that stand out above the rest.
One such waterfall is Neil Compton's Double Falls. The trek to the falls isn't the easiest. It's rather steep and isn't marked; however, the effort is well worth it since the end result is close-up views of a 39-foot double waterfall.
As an added bonus, there are several smaller falls along the way.
If you're looking for a waterfall with easier access, you'll find it in Lost Valley's Eden Falls. Easily accessible, it's a great visit for the entire family.
Plus, there are several other striking natural features in the area, including caves and additional waterfalls.
Which hiking trails are good for families?
If you and your family are looking for the perfect Arkansas day trip, you can't go wrong with a hike. There are several trails in the state that are suitable for younger, less experienced hikers. You'll find two of them at Withrow Springs State Park:
At only 0.75 miles, the Dogwood Loop is great for a short-and-sweet outing. It is a bit steep at first; however, it eventually levels out.
The Forest Trail is a bit longer (2.1 miles), but it's wide and fairly flat throughout.
What other scenic places in Arkansas are worth exploring?
Scenic spots and breathtaking beauty are plentiful in Arkansas.
Hot Springs National Park is among the state's most stunning.  Ancient thermal springs are the park's centerpiece; however, they're far from all the park has to offer. Additional perks include mountain views, incredible geology, forested hiking trails, pristine creeks, and historic bathhouses.
Arkansas' first state park, Petit Jean State Park is another scenic site worth exploring. In addition to its namesake mountain, the park features waterfalls, canyons, hiking trails, and breathtaking overlooks.