The Clearest Lake In Arkansas Is Almost Too Beautiful To Be Real
It's impossible not to love a trip to one of the cleanest lakes in the U.S. Lake Ouachita is crystal-clear and stunningly beautiful. In fact, it's the clearest lake in Arkansas, and as such, it's one of the most awe-inspiring, too. This lake is beyond perfect for the warmest days of the year! Whether it's for a week or one day, Lake Ouachita will completely enchant you.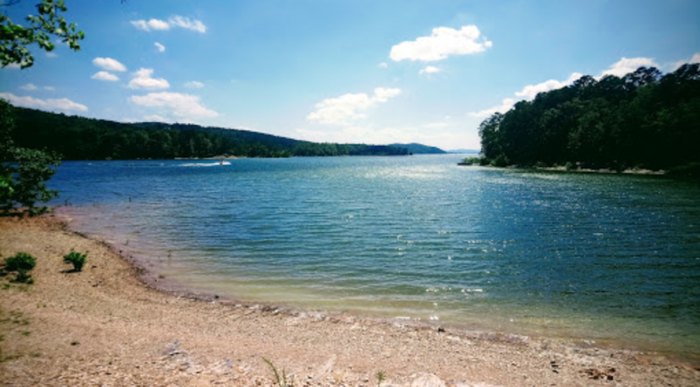 To take a virtual scuba dive tour of the lake, watch this video:
What's been your favorite trip to Lake Ouachita? Do you agree that it's the clearest lake in Arkansas? What are your favorite swimming lakes in Arkansas? Reminisce with us in the comments.
We would love to see your photos of the lake in our Facebook group, Arkansas Nature Lovers. You should join for your chance to be featured and to discover why there's nothing better than Arkansas' stunning nature.
OnlyInYourState may earn compensation through affiliate links in this article.
Address: Lake Ouachita, Arkansas, USA
Clearest Lake In Arkansas
June 03, 2021
Where can I go camping at Lake Ouachita in Arkansas?
Lovers of lakeside camping will be more than happy to hear that there are plenty of places to stay overnight (or longer) in beautiful Lake Ouachita State Park. In fact, there are 93 available campsites at the park, including 58 Class "AAA" campsites, 23 Class "D" campsites, and 12 walk-up sites. If tent or RV camping isn't quite your thing, don't worry - you can also reserve an adorable cabin right at the lake! There is no entry fee to the park itself, however, <a href="https://www.arkansasstateparks.com/parks/lake-ouachita-state-park" rel="noopener" target="_blank">check the official forest service website </a>for camping permit information.
What are the best swimming lakes in Arkansas?
Arkansas is a state so beautiful that it's almost pure magic! There are hundreds of pristine spots perfect for swimming on a warm day - so many, in fact, that we can't list them all in this short paragraph. However, some of our favorites include places like Lake Sylvia, Blanchard Springs, Mulberry River, and, of course, Kings River Falls. One thing is for sure, that shortlist is nowhere near all-encompassing. There are dozens more, so make sure to take a look at <a href="https://www.onlyinyourstate.com/arkansas/ar-swimming/" rel="noopener" target="_blank">this article </a>for a more complete list. 
What are the most beautiful lakes in Arkansas?
There are so many that we just don't know where to start! Lake Ouachita is an excellent example of the pristine beauty in Arkansas. It's not just the clearest lake in the state; it's also one of the cleanest, crispest lakes in the United States! That's quite an accolade, and we're pretty darn proud of it. Of course, that's not the only beautiful lake here in Arkansas. There are also gems like Greers Ferry Lake, which is beautiful and great for photographers, too, and the Blue Hole near Jerusalem, Arkansas, is a must-see! Lake Dardanelle is quite a paradise, with water that reflects the crisp blue sky above.