This Epic One-Day Road Trip Across Arizona Is Full Of Adventures From Sunrise To Sunset
A full day of exploring the Grand Canyon State? Sign us up! This epic Arizona day trip starts with watching the sunrise at Tumamoc Hill and ends with a mountaintop dinner and a sunset hike at Picacho Peak State Park.
Visit Google Maps for the customizable trip itinerary.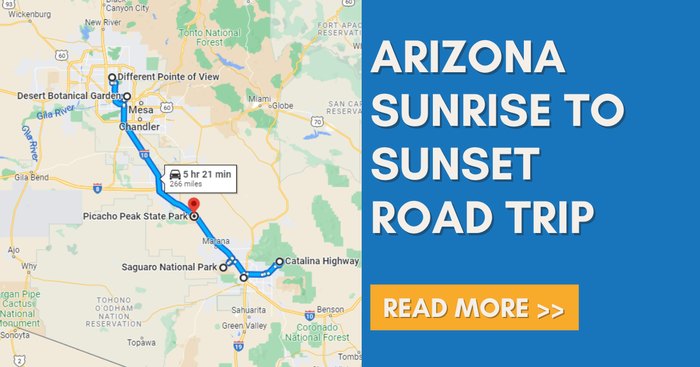 Would you take this epic Arizona day trip? Tell us your thoughts in the comments!
Address: Tumamoc Hill, Tucson, AZ 85745, USA
Address: Catalina Highway, Catalina Hwy, Tucson, AZ 85749, USA
Address: Saguaro National Park, Arizona, USA
Address: Desert Botanical Garden, Phoenix, AZ 85008, USA
Address: Different Pointe of View, 11111 N 7th St, Phoenix, AZ 85020, USA
Address: Picacho Peak State Park, 15520 Picacho Peak Rd, Picacho, AZ 85141, USA