When And Where To Expect Arizona's Fall Foliage To Peak This Year
No matter what your favorite season is, we can all agree the crisp autumn air and changing leaves impart certain magic that words can't fully describe. While Arizona isn't as well-known for its fall foliage as, say, New England, our state – particularly the high desert areas – happens to be a leaf-peeping paradise. Peak season occurs at a slightly different time each year, so having a trusted resource to consult ensures you'll get to enjoy the show to the fullest extent possible. The interactive fall foliage map at SmokyMountains.com is just that, detailing exactly when and where the fall foliage will peak in Arizona. Grab a pumpkin spice latte and hit the road – it's time for autumn adventures!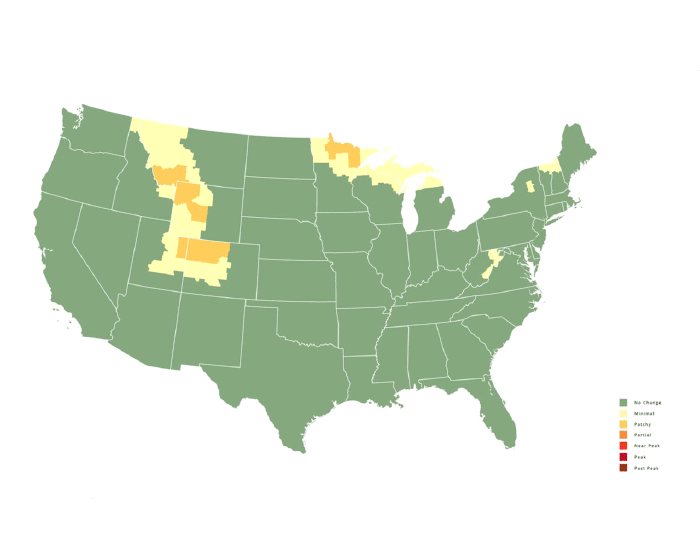 Visit the official Smoky Mountains website to access the interactive map and try it out for yourself. Don't just check once and call it good, either – the map is scheduled to update mid-season for maximum accuracy! There, you'll also find some of the top leaf-peeping sites in all 50 states.
Are you excited for fall foliage to peak this year? Where are your favorite spots to see the changing leaves in Arizona? Check out some of the best fall foliage in Arizona this season!
Address: Snowbowl Drive, Snowbowl Dr, Arizona 86004, USA
Address: Grand Canyon National Park, Arizona, USA
Address: Boyce Thompson Arboretum, 37615 E Arboretum Way, Superior, AZ 85173, USA
Arizona Fall Foliage Map
September 11, 2022
Where can I find the best fall foliage in Arizona?
Arizona is a beautiful state in the fall, and we don't think it gets enough credit for this. Sure, New England might have some truly amazing leaf-peeping opportunities, but don't think the desert southwest is a slouch by any means. There are some amazing places to see fall foliage in Arizona, like the entire northern portion of the state. Sedona and Flagstaff are two of the most beautiful small towns in Arizona during the fall, and you can't miss a hike on the legendary Kachina Trail north of Flagstaff for some of the best colors in October. Check out places like Payson, Prescott, and other mountain towns – they are truly at their best when the leaves are changing!
What are some excellent places to view fall foliage in Arizona?
The list of excellent places to view fall foliage in Arizona continues, and it's not a short list, either! We have too many favorites to mention, but there are some worth mentioning. Why not embark upon a wonder-filled fall color hike in Arizona? Some of our faves include gems like the Weatherford Trail, in Flagstaff, and Oak Creek Canyon, near Sedona, which is ablaze with color by mid-October and becomes an even MORE amazing destination than it already is. In southern Arizona, check out Mount Lemmon – it's a truly unique experience to drive all the way up, and during the fall, it is at its most incredible.
What is fall in Arizona like?
This is an interesting question; fall in Arizona varies depending on where you are. In northern Arizona, autumn brings with it a chill in the air and vibrant color by October. In central Arizona, fall color may not show up until December, but autumn does mark a wonderful time in which the scorching summer temperatures taper off and more reasonable, pleasant temperatures take hold. Autumn is one of the best times of year for doing some of the best hikes in Arizona, which tend to be almost impossible when it's incredibly hot. Southern Arizona tends to get a little chillier than central Arizona, but not as chilly as northern Arizona does. It's a wonderful time of year to visit the desert!
Address: Snowbowl Drive, Snowbowl Dr, Arizona 86004, USA
Address: Grand Canyon National Park, Arizona, USA
Address: Boyce Thompson Arboretum, 37615 E Arboretum Way, Superior, AZ 85173, USA