Fall Is The Perfect Time To Visit This Historic Mountain Town In Arizona
Many people believe Arizona experiences an endless summer, but that couldn't be further from the truth (for some regions of the state, at least). Flagstaff, one of the most historic Arizona mountain towns, is located about 7,000 feet above sea level, and it transforms into an autumn wonderland each year, with bright yellow aspen trees that draw tourists from all over the world. There's so much to see and do in Arizona in the fall; in fact, we think it might just be the best time of year to visit! Here's why: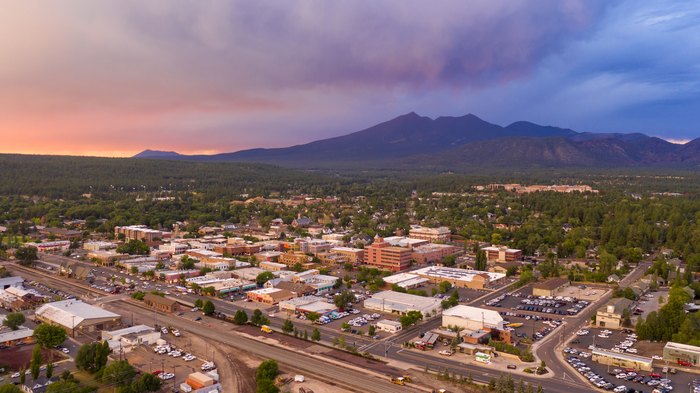 Visit the official Flagstaff  website or Facebook page for more information, such as a list of fall festivals and other activities taking place this season!
Have you ever visited Flagstaff in the fall? If so, what were some of the highlights of your trip? Tell us in the comments section below, then check out some of the most beautiful places to visit in Arizona in the fall.
OnlyInYourState may earn compensation through affiliate links in this article.
Address: Flagstaff, AZ, USA
Arizona Mountain Towns
August 25, 2022
What is there to do in the Flagstaff mountains? 
The Flagstaff mountains in northern Arizona are truly a magical place. First of all, did you know it's a dormant/extinct volcanic field? Yep – turns out, northern Arizona is all kinds of lava-based. You can visit one of the most fascinating examples of our geological past by checking out the Flagstaff Lava Tube, which is in the woods nine miles north of Flag on a forest road off the 180 (FR 245). You can go leaf-peeping in the fall on several amazing forest roads, and this area is home to some of the best hiking trails in Arizona, too! Flagstaff – and its surrounding area – is a truly wonderful place, and we think you just might want to call it home.  
What is fall in Arizona like?  
This is an interesting question because fall in Arizona varies on which part of Arizona you are referencing. In central Arizona, where the summers are hot and extreme, fall is a welcome respite – though it does tend to seem to arrive later than in most places. Sometimes trees and foliage don't even begin to change until November or December thanks to the high temperatures and seldom nights that freeze at all. In the northern parts of the state, though, it's a different story – color begins to blossom across the peaks in September and October, and the golds and oranges are brilliant and very picturesque. Temperatures will drop from the 90s and 100s to the 70s and 80s, during the day, and autumn is drier than summer more often than not. So in just one word: perfect.  
What are some fun things to do in Flagstaff Arizona? 
We do not even know where to begin. Flagstaff is probably our favorite part of Arizona, and for good reason: it's more than just a pretty place. Wander around downtown Flag and peruse the shops, like the delightful Blackhound Gallerie (while you're there, check out Bigfoot BBQ in the basement) and In Cahoots (an eclectic costume and secondhand shop you're sure to love). Get a fresh-baked cookie (or twelve) at Mozzelle's, or have the best Mexican food of your life at MartAnne's Burrito Palace. Go on a hike, explore Route 66... seriously, there isn't anything you can't do (except maybe have a bad time).