A Heartbreaking Tragedy Struck Arizona In 1997...And It Will Never Be Forgotten
Antelope Canyon is world-renowned for its impressive natural beauty and the dramatic images photographers are able to create using just its signature sandstone and available light filtering through petite cracks in the ceiling. The slot canyon was formed over millennia thanks to rushing water, creating an undulating scene of ripples and waves. It is a rare sight, especially in such a vast size as this, and brings in thousands of tourists from around the world every year.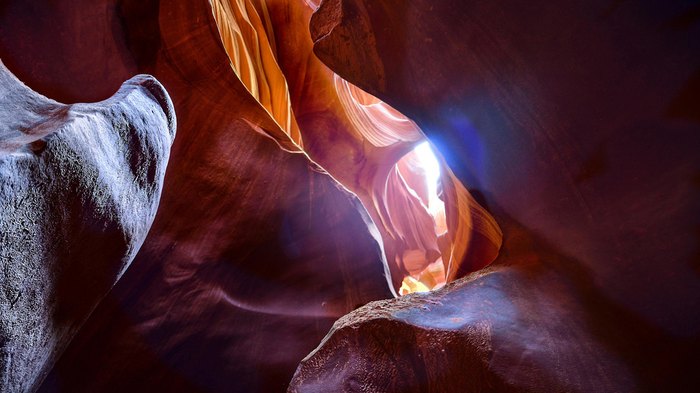 If you want to read more bits of Arizona history, you will want to check out one of our previous articles, fun history facts about Arizona. If you can't get enough of Arizona's amazing natural wonders, you can't miss a visit to the Grand Canyon, which is home to the single most dangerous hiking trail in AZ (that also happens to be the most gorgeous). What natural wonders of Arizona do you find the most intriguing? Which ones would you call your favorites? Let us know in the comments, and if you have photos, remember to share them with us on Facebook.
OnlyInYourState may earn compensation through affiliate links in this article. As an Amazon Associate, we earn from qualifying purchases.
More to Explore
Antelope Canyon Deaths
How many Antelope Canyon deaths have there been?

 
Antelope Canyon is without a doubt one of the most amazing natural wonders in Arizona, but it hasn't been without its tragedies. At the time of this writing, no less than 11 people have met an untimely end in Antelope Canyon – all of which occurred during the 1997 Antelope Canyon incident.  
2. What happened during the 1997 Antelope Canyon incident?  
Over the decades, at least 68 people have died in flash flooding incidents, and the Antelope Canyon incident was easily one of the worst. On this fateful day in 1997, a 40-foot-high wall of water rushed very suddenly through the canyon, surprising a group of hikers who were unfortunate enough to be there at the time. Of the 12 hikers in the group, 11 died, and the lone survivor did several interviews about the harrowing incident to help warn others about the dangers of flash flooding.  
3. What natural disasters is Arizona prone to?  
Flooding is just one of the numerous possible natural disasters in Arizona; other natural disasters known to occur in Arizona are things like:  
Extreme heat (temperatures can and do surpass 120 degrees on some summer days)  

 

Extreme drought (the opposite problem of too much water)  

 

Landslides

 

Dust storms

 
Related Articles
Explore Arizona