Take This Road To Nowhere In Arizona To Get Away From It All
In the society we live in today, stress comes all too easily. In no time, you can find yourself worried about everything: work, relationships, traffic, bills. One of the best ways to combat that stress? Temporarily removing yourself from environmental stressors and spending some time alone to reflect on what's going on in your life is pretty nice. Some people do this through journaling, going for a run, or, in some cases, going out for a good drive. Taking a lunch break from life to do something enjoyable by yourself for yourself can actually be restorative to your physical and mental health. So why not pair a long drive with some beautiful scenery like what you'll find along State Route 89A? It's easily one of the best scenic drives in Arizona – and you'll see why immediately!
For your convenience, check out these driving directions on Google Maps. The directions start just south of Flagstaff and will lead you through the Verde Valley down to the outskirts of Prescott Valley and Prescott. So, let's check out a few of the landscape highlights you'll encounter on this drive to put you in a calmer state of mind. Don't forget to take a moment to pull over to admire the view! It's well-known as one of the most scenic places in Arizona for lot of reasons, and you're about to learn why!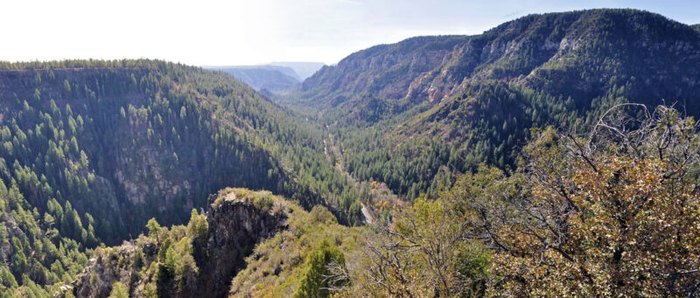 Want ideas for more of the best scenic drives in Arizona? Check out our article from June, These 9 Beautiful Byways In Arizona Are Perfect For A Scenic Drive.
Address: Arizona 89A, AZ-89A, Sedona, AZ, USA
Best Scenic Drives in Arizona
June 30, 2021
How long is State Route 89A in Arizona? 
SR-89A in Arizona is one of the most famously scenic drives in the United States; it winds through 83 miles of incredible Arizona landscapes, including mountains and the world-famous Oak Creek Canyon. It also goes right through Sedona, which is easily one of the most famously beautiful places in the world (seriously, if you haven't been to Sedona, why are you still reading this? Go there, now!). It passes through some fascinating wild-west ghost towns, too, like Jerome – a strange, beautiful, and supposedly super-haunted place that once was home to a thriving copper mine but now is home to wineries and artists. It is truly an incredible roadway, and everyone – locals and tourists alike – needs to drive the whole thing at least once.  
What are the most beautiful drives in Arizona? 
Would you hold it against us if we said that it's pretty much impossible to choose just a few scenic drives throughout the state to mention here? Because, seriously… it's hard to narrow it down to just a few. However, some of our favorites include the beautiful SR-89A, as mentioned above, and the Grand Canyon South Rim scenic drive is second to none. You truly won't find another drive like it anywhere in the world. The Apache Trail winds through the stunning region of the Superstition Mountains, as well as a couple of sparkling, beautiful reservoirs. And then, of course, there's the legendary Kayenta to Monument Valley Scenic Drive, which might be one of the most famous in the world – if you've ever seen Forrest Gump, you know what road we're talking about. It's where Forrest says he thinks he's just going to go home now, and trust us – you won't want to go home when you see this view in person.  
Where are the most scenic places in Arizona?  
Copper State-ians are very lucky to live somewhere with so many choices in terms of scenic places to visit. There are so many that we're sure there's no way you can check them all out in a single weekend or even a whole week. To fully explore Arizona would likely mean spending a whole season here, and during that time, you'd likely go to famous places like the Grand Canyon and Monument Valley, as well as the Petrified Forest. You'd also go to lesser-known places like Saguaro Lake, which is surrounded by stunningly beautiful mountains and canyons, and tubing the Salt River during the summer months is also a must. For more of our picks for the best scenic places in Arizona, check this article out! 
Address: Arizona 89A, AZ-89A, Sedona, AZ, USA