9 Easy Desert Hikes In Arizona Anyone Can Do
Those of us living in Arizona know that there's no better place to spend our time than outdoors, especially when it's not too hot. We're going to celebrate all the beauty that Arizona has to offer with a list of some easy, scenic hikes in our beautiful deserts. Here are some of the best hikes in Arizona for big fans of the desert; check out what we have: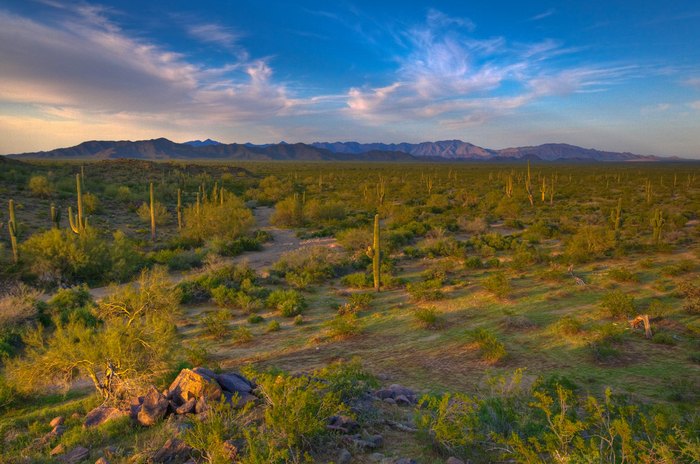 Want to see some other fantastically easy Arizona hikes? Check out our recent article 10 Easy Hikes To Add To Your Outdoor Bucket List In Arizona for ideas.
Note: Even when the temperatures are lower, please continue to exercise caution when hiking. This includes staying well-hydrated, dressing appropriately for the environment, keeping an eye out for wildlife, and staying on the trail. You can find additional tips on the Arizona Hikers Guide website.
OnlyInYourState may earn compensation through affiliate links in this article.
More to Explore
Best Hikes in Arizona
What are some of the best kid-friendly hikes around Arizona?  
For the purposes of this answer, we'll define a kid-friendly hike as one that is both less than two miles in length and rated as "easy" by our friends at AllTrails. Some of our favorite kid-friendly hikes in northern Arizona are the Devil's Kitchen Trail (0.4 miles long) and the Oak Creek Trail (1.3 miles long), both of which are nearby Sedona. While in northern Arizona, bring the kids to Horseshoe Bend Trail, near Page; it's just one and a half miles long and leads to one of Arizona's most iconic desert landmarks. In the Phoenix metro/central Arizona region, bring the kids to Papago Park for a very short (0.3 mile) hike to some awesome views on the Hole in the Rock Trail, or head west of Phoenix and do the White Tank Waterfall Trail, which is 1.8 miles long and features an awesome seasonal waterfall. In southern Arizona, check out the Valley View Overlook Trail, which is nestled within Saguaro National Park, and the Mica View Trail to Cactus Forest Trail, also at Saguaro NP. Want more ideas? Check this article out. 
What are some wonderful easy hikes in Arizona?  
So, Arizona has more than 900 easy hikes, and although a lot of those are short and sweet, there are others that are longer but still pretty easy. For example, the Grand Canyon Rim Mules to Mather Point hike is longer, at six miles in length, and so is the Grand Canyon Rim Trail, at 12.7 miles in length. Other great easy hikes in Arizona that we love include the Double Butte Loop Trail and the Hole in the Rock Trail, both at Papago Park in Phoenix, and the Catalina Canyon Loop Trail in southern Arizona is truly to die for (okay, but not literally, though). Lynx Lake Loop Trail, in Prescott, has amazing lake views and wildlife viewing opportunities, and the Water Ranch Trail at the Gilbert Riparian Preserve is also pretty amazing. The possibilities are only as limited as you are, so get out and explore Arizona!  
Related Articles
Explore Arizona