This Tiny Town In Alaska Is Like Nowhere Else On Earth
Hyder, Alaska is a village that is tucked in the forest along the Alaska-Canadian border. This tiny place is isolated from the rest of Alaska by the vast Tongass National Forest. In this crazy town, they celebrate all the holidays both American and Canadian and you're sure to have an excellent time. The residents depend on Canadian services for most of their needs, but they still hold onto to their Alaskan pride and wave the U.S. flag. Head to Hyder in the furthest corner of Alaska for an extreme adventure. This is one of the best places to visit in the entire state, without a doubt!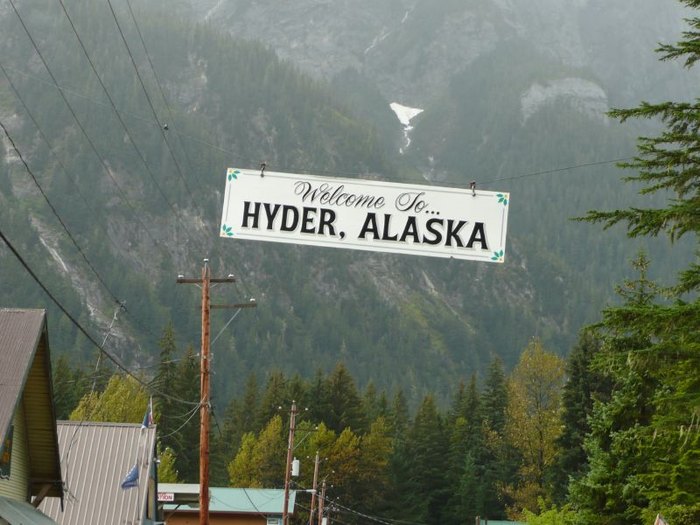 Alaska has a wide variety of interesting, tiny towns. Check out The One Tiny Town In Alaska That Was Just Named As The Weirdest Place In America and There's A Tiny Town In Alaska Completely Surrounded By Breathtaking Natural Beauty.
Have you been to Hyder, this tiny town in Alaska? What did you think? Would you visit it again? Tell us all about it in the comments below.
OnlyInYourState may earn compensation through affiliate links in this article. As an Amazon Associate, we earn from qualifying purchases.
More to Explore
Tiny Town In Alaska
How do you visit Hyder, Alaska?
The only road into Hyder, Alaska is through Canada. There used to be a ferry that would run all the way to this small town, but that stopped in the late 1990's. Now the only direct route from Hyder into the rest of the state of Alaska is the Taquan Air floatplane that arrives on the Hyder Seaplane Base. Otherwise you must travel out by road.
Do you need a passport to enter Hyder?
If you're traveling by road through Canada, you don't need a passport to enter into Alaska, but you do need a passport to exit back through Canada on International Street. The only border station that you'll need to pass through is located in Canada. This is a great spot for someone traveling through Canada who wants to pop over to see the amazing sights that Hyder has to offer, or to visit Canada's 5th largest glacier, Salmon Glacier. The only road access to Salmon Glacier is through the town of Hyder!
What are the best things to see in Hyder?
The most popular item to see are the bears. Hyder is known for great bear watching, especially in the summer time. Visitors head to the Fish Creek Wildlife Observation Site to watch the bears fish during the summer time. There's a wonderful observation deck where you get a front row seat watching some of Alaska's most interesting wildlife. Many others travel up to Salmon Glacier, but you'll want a hardy car as the road isn't paved and there are many potholes.
Related Articles
Featured Addresses