This Strange Phenomenon In Alaska Is Too Weird For Words
There is a road in Alaska that will, for a split second, make you question your sanity. Just right outside of Anchorage, on Upper Huffman Road, is a hill that defies gravity and blows minds. All you have to do to experience the magic of this gravity hill in Alaska is pull your vehicle up to the base of the hill, put it in neutral, take your foot off the brake, and, believe it or not, you'll slowly begin to coast uphill. We're not talking at a snails pace either, you can reach up to 12 mph even on the ice and snow! This is one of the fun and weird places in Alaska that you'll want to experience yourself, firsthand.
Many people think this may be one of the creepy places in Alaska, but if you know what to expect, this is pure fun. The science behind it is so interesting. You won't believe what really "pulls" your car uphill!
Check out the video if you don't believe me. Or better yet, get in your rig and drive to Upper Huffman Road to try it out for yourself.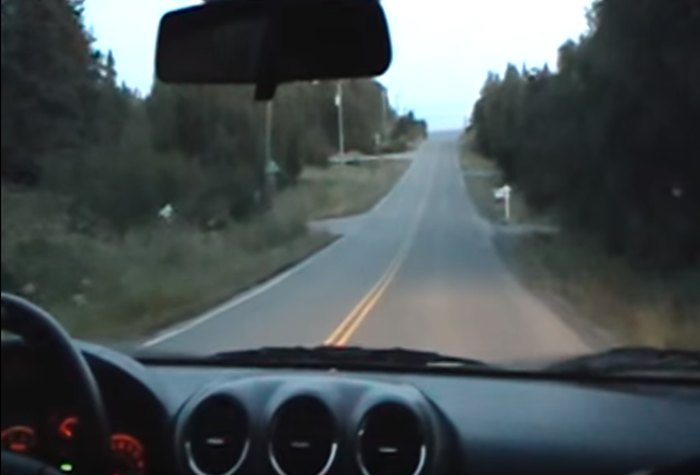 This video shows Alaska's Gravity Hill in action…
This gravity hill in Alaska is a great spot to take family or friends if you really want to baffle and blow their mind, while showing them one of the spooky places in Alaska. Have you been to this hill in Anchorage, Alaska? If so, please share your experience. Let us know all about what you saw when you drove up this hill.
If you're visiting the wonderful city of Anchorage, learn why The Best City In America Is Actually Right Here In Alaska.
OnlyInYourState may earn compensation through affiliate links in this article.
Address: Anchorage, AK, USA
Gravity Hill In Alaska
October 25, 2020
Are there a lot of creepy places in Alaska?
This depends on what you think is creepy. There are plenty of ghost towns and villages, where the buildings are uninhabited and decaying. Many people find these areas truly spooky, but it's mostly just the wilderness reclaiming areas that humans have left behind. Due to the gold rush, and many towns springing up overnight to disappear again when the gold was all found. Towns would empty as quickly as they developed, and many still have structures that are falling apart. Other parts of Alaska have been abandoned by the US military, and you'll find old bunkers, large buildings like the Buckner's building in Whittier, and other places that are now uninhabited after World War II. 
Can you experience a lot of unusual natural phenomena in Alaska?
Yes! A state this unusual and unique has many crazy aspects to it. We have wonderful things like the aurora borealis, and more strange things like ice fog. Ice fog is when the liquid in fog freezes at temperatures of -40 degrees Fahrenheit or colder, and the liquid droplets freeze into ice crystals suspended in the air. There are a lot of amazing things that happen in nature when temperatures get as low as they routinely do in the state of Alaska.
OnlyInYourState may earn compensation through affiliate links in this article.
Address: Anchorage, AK, USA