This Natural Phenomenon In Alaska Happens Just Once A Year And It's Spectacular
There is nothing like the fall colors in Alaska. Most people associate Alaska with huge towering mountains and glistening blue glaciers. As home to Denali, North America's tallest mountain, that is a pretty accurate connection. However many are surprised to learn that nearly half of Alaska's land is actually covered with tundra. Tundra is a treeless ecosystem in which the climate is generally very cold and thus the growing season is too short for trees to mature. If they try to grow, they are usually stunted.
Often times referred to as a "cold desert" – these areas that are lined with thick tundra have permafrost in the wintertime, thick brush in the summertime and brilliant red colors during the fall. The season for experiencing the stunning fiery colors of fall lasts only a short time. The first few weeks of September are the most opportune time-frame for getting an up close and personal look at rural Alaska being painted red. It is mesmerizing!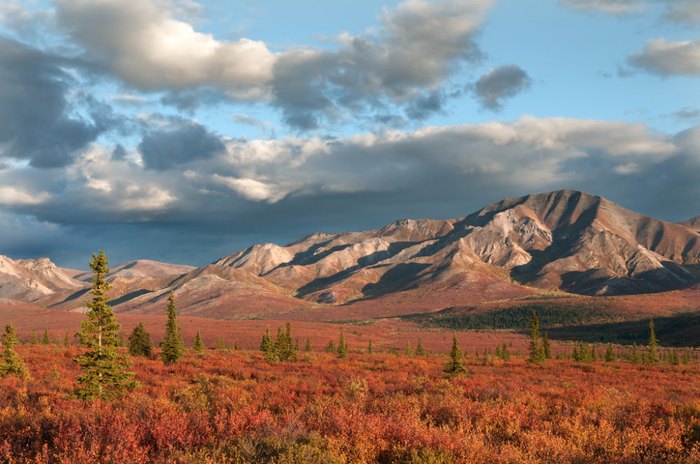 If you are getting bummed that summer is ending and aren't quite as excited as we are about fall, be sure to check out these 23 Gorgeous Spots To See Fall Foliage That Will Show You Alaska Like Never Before! It will leave you feeling awake, refreshed and totally stoked about the fall colors in Alaska to come!
Do you love experiencing the natural wonders in Alaska? If so, you'll love these 7 wonders of the world that are right here in the last frontier!
OnlyInYourState may earn compensation through affiliate links in this article. As an Amazon Associate, we earn from qualifying purchases.
More to Explore
Fall Colors In Alaska
How long does autumn last in Alaska?
While autumn may last many months in other states in the lower 48, in Alaska, fall is only active for a very short here in this beautiful state. It usually begins each year in late August, and runs until mid-October. This short season means that everything that changes colors does it explosively and in a great burst. It makes for some seriously spectacular scenery as you travel around the state. If you want to see all of the colors change throughout the length of the state, consider a trip from Utqiagvik all the way down to Southeast to witness the entire state aflame with gorgeous colors.
What are the fall temperatures in Alaska?
September and October will see lows of just below freezing for the average lowest temperature in the state. Prudhoe Bay leads with the lowest temperatures, with an average low of 29 degrees Fahrenheit in September, and October can see average temperatures as low as 11 degrees Fahrenheit. The average highs for September are all the way up to 59 degrees Fahrenheit in Ketchikan, and 51 degrees Fahrenheit in October. Autumn temperatures can vary wildly throughout the state, depending on where you are. But they all herald the gorgeous colors of autumn!
Related Articles
Featured Addresses