An Eerie Abandoned Hotel In Alaska, Igloo City Is Oddly Fascinating
If you live in Alaska, chances are that you've been asked by an "outsider" if you or anyone you know lives in an igloo. Well, no – we do not. In fact, we never really have. Igloos were used a long time ago by Alaskans as temporary shelters when out on long trips, or as emergency shelters if they were caught in bad weather. Let's face it… no one wants to spend a bunch of time and effort into building a livable structure that's just going to melt when the temperature rises above 32 degrees. But the abandoned igloo hotel in Alaska may offer another option than the traditional ice and snow-carved igloo.
So, the next best thing to do to uphold that Alaskan persona would be to build a ginormous, round, white structure that mimics everyone's idea of an igloo, right? According to one man, the answer was yes. But in true Alaskan fashion, he decided to go big or go home. Instead of just building himself an igloo-like house to live in, he set out with the intention of building a massive hotel for residents and visitors alike to enjoy. Pretty intriguing, huh? Read on to learn more about this eerie abandoned place in Alaska that will definitely give you the chills.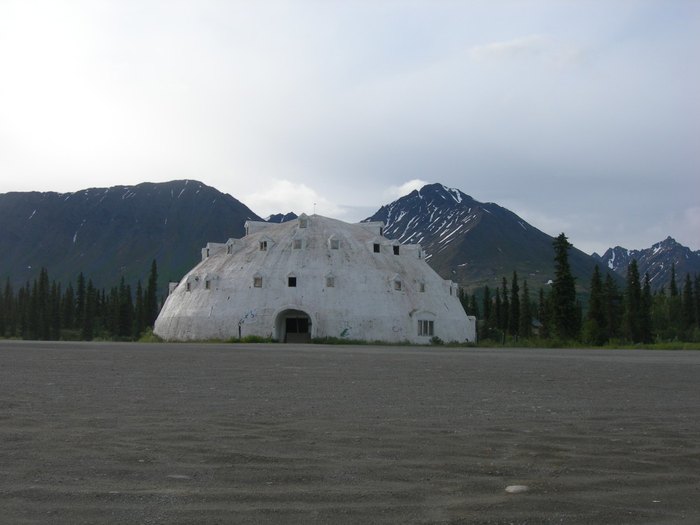 Although incredibly interesting and undoubtedly a must-see when living in or visiting Alaska, Igloo City can actually be quite a dangerous place to explore. Those who come from far and wide are urged to use caution. Because of the remote location, predators such as bears and wolves are in the nearby area and have been said to use this giant igloo structure as shelter during times of distress. Moose are also in the area and although they are not predators and are not generally aggressive in nature, they are very dangerous when they are caught off guard, in a rut, hungry for food, or protecting their young.
Extreme winter conditions and precipitation levels also make Igloo City in Alaska a dangerous area to navigate about. Snow levels are known to get well over five feet in this area making it very difficult to explore from all angles. No matter what season it is, Alaska is a very wild and unforgiving state, and exploring remote locations is not something that you should do unless you are inherently prepared for anything that might happen. Have you ever checked out this awesome and eerie abandoned roadside hotel that is one of the most famous abandoned places in Alaska? We'd love to hear about your experiences and see your photos! Make sure to drop them in the comments below.
If reading about this abandoned igloo hotel in Alaska makes you want to vacation in a real igloo, read more about how you can spend the night inside of an igloo at Borealis Basecamp In Alaska.  This is a once-in-a-lifetime adventure in the interior of Alaska! And for other interesting accommodations in Alaska, Hotels.com has got your back.
OnlyInYourState may earn compensation through affiliate links in this article. As an Amazon Associate, we earn from qualifying purchases.
More to Explore
Abandoned Hotels In Alaska
What is the most fun thing to do in Cantwell, Alaska?
The most fun thing to do in Cantwell Alaska is visiting Denali National Park. Although it's still a little bit of a drive to get to the park gates, there are hundreds of things to do once you enter Healy and the Denali area. From white water rafting, to backcountry camping, hiking, fishing, and everything in between, there is so much to see and do in one of Alaska's most famous national parks. You can even experience a dog sledding tour, regardless of whether you visit in the summer, spring, winter, or fall.
Are there many places to stay in Cantwell, Alaska?
Yes there are many fun places to stay in Cantwell Alaska, such as:
You can find an RV park, a lodge, cabins for rent, and more. While many people like to be a little closer to Denali National Park, you'll find the prices rise and the competition gets more fierce. If you have transportation of your own, staying in Cantwell offers great prices and a wonderful location. There are also restaurants and gas stations. You'll have everything you need, and beat the crush of visitors that congregate closer to the park. There are even two wonderful hiking trails in Cantwell, including the popular Wolf Point Trail, which offers stunning views of mountains and a river.
Related Articles
Explore Alaska
Featured Addresses

Mile 214.5 Parks Hwy, Denali National Park and Preserve, AK 99755, USA