Take This Hidden Gems Road Trip When You Want To See Some Little-Known Places In Alabama
Have you taken the time to explore some of the many hidden gems in Alabama? From sprawling parks to unique shops, the list is endless. One of the best ways to experience Alabama is to pack the car with your favorite people and a few snacks and go on a road trip. We've included a mapped road trip route below, which will take you to six of Alabama's hidden gems. For an unforgettable experience, you'll want to stop and visit each one. Let's find some hidden gems in Alabama, shall we?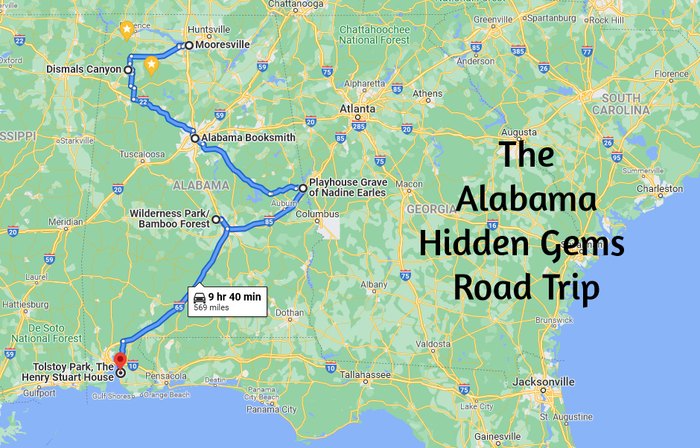 Have you been to any of these six hidden gems in Alabama? If so, please tell us all about your adventure with a comment. If you've discovered any other cool places to visit in Alabama share that too. We are always on the hunt for our next Alabama road trip idea.
Another hidden gem in Alabama that's worthy of a visit is Natural Bridge Park. This beautiful natural wonder is so well hidden, it feels like one of Alabama's best-kept secrets.
OnlyInYourState may earn compensation through affiliate links in this article.
More to Explore
Even more hidden gems in Alabama
How do you find cool places to visit in Alabama?
Finding cool places to visit in Alabama is definitely not hard to do. In fact, here is a list of fun things to do and see in Alabama for a weekend getaway or adventurous road trip. (Read the whole list of 12 hidden gems in AL)
1. Noccalula Falls: Besides being extremely fun to say ten times real fast, Noccalula Falls in Gadsden, AL is absolutely stunning. It's a 90-foot drop over a cave dug into the rock of Lookout Mountain. The best part is you can walk behind the waterfall and lose yourself in the powerful rush of sound.
2. The Bright Star: After a day at the waterfall you'll work up an appetite. The Bright Star in Bessemer, AL is one of those small-town hidden gems all the locals tell you to visit. This epic restaurant has been in the same family since it first opened in 1907!
3. Unclaimed Baggage Center: Okay this is a bit of an odd one but did you know you can actually go to a store that sells unclaimed baggage? This is the only store like it we've ever seen, and you can find it right here in Scottsboro, AL. Can you imagine what unique treasures you'll find here?
4. Lake Eufaula: If you love a little bass this beautiful lake in the small town of the same name is your dream destination. Often referred to as the "Bass Fishing Capital of the World" Lake Eufaula is a true hidden gem for those who love to fish.
5. Golden Years Ice Cream Parlor: Nothing goes better with a nice buttered bass than ice cream. Okay, fine, maybe not with bass but this is the best ice cream shop in Hazel Green, AL. The Golden Years is done up like your favorite ice cream joint from the 1950s with classic cars, pinball machines, and all the best vintage decor. Oh, yeah, and some amazing ice cream, too.
Related Articles