These 10 Jaw Dropping Views Of Wyoming Will Take Your Breath Away
Wyoming's landscape often rivals stunning artwork, and nature's masterpieces are on display throughout the state. Our landscape is full of majestic mountains and gently sloping plains full of intricate features with bold contrasting colors. Here in Wyoming, you will be inspired by canvases of snow-capped mountains, breathtaking canyons, frolicking streams, playful geysers, and rejuvenating hot springs. Pick your jaw up off the floor and get ready to ooh and aah over the best views in Wyoming. Nothing is more powerful or inspirational than the picturesque world around us. Enjoy nature at its best in the beautiful state of Wyoming.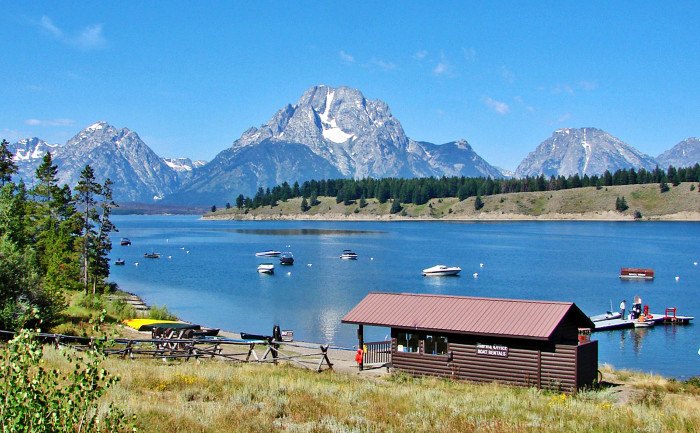 What do you think is the most beautiful place in Wyoming? Share with us in the comments!
Address: Colter Bay Village, WY 83013, USA
Address: East Fork Wind River, Wyoming 82513, USA
Address: Jenny Lake, Wyoming 83414, USA
Address: Canyon Village, WY 82190, USA
Address: Yellowstone National Park, United States
Address: Grand Teton National Park, Wyoming, USA
Address: Castle Geyser, Wyoming 82190, USA
Address: Granite Hot Springs Pool, Wyoming 83001, USA
Address: Antelope Flats, Wyoming 83012, USA
Address: Devils Tower, WY 82714, USA
best views in wyoming
October 02, 2020
What are the most unique towns in Wyoming?
When it comes to one of a kind places in Wyoming, locals often mention Pinedale, Centennial, Buffalo, Sheridan, and Themopolis. Each is a historic town that offers remarkable scenery and some of the best views in Wyoming. Pinedale and Centennial are snowmobile capitals of the state, Buffalo and Sheridan showcase beautiful and scenic downtowns at the foothills of sprawling mountains, and Thermopolis is home to a remarkable set of thermal features.
What are the oldest attractions in Wyoming?
The geysers of Yellowstone were some of the first landmarks in Wyoming that visitors set out to see. There's also the Ayres Natural Bridge along the Oregon Trail, which many consider to be the first "roadside attraction" in the state, and monoliths like Boar's Tusk and Devils Tower that date back millions of years.
What are the most beautiful lakes in Wyoming?
Jackson Lake and Jenny Lake, in Grand Teton National Park, are two of Wyoming's most stunning lakes. Yellowstone Lake (and its West Thumb) are noteworthy, as well as Fremont Lake near Pinedale. Smaller lakes are scattered throughout our mountains, and you never know when you'll stumble upon a gem on a back country hike.
Address: Colter Bay Village, WY 83013, USA
Address: East Fork Wind River, Wyoming 82513, USA
Address: Jenny Lake, Wyoming 83414, USA
Address: Canyon Village, WY 82190, USA
Address: Yellowstone National Park, United States
Address: Grand Teton National Park, Wyoming, USA
Address: Castle Geyser, Wyoming 82190, USA
Address: Granite Hot Springs Pool, Wyoming 83001, USA
Address: Antelope Flats, Wyoming 83012, USA
Address: Devils Tower, WY 82714, USA