10 Bizarre Roadside Attractions In Wyoming That Will Make You Do A Double Take
Sometimes riding across the state of Wyoming can be a bit interesting. All of a sudden you are driving along and just happen to catch a glimpse of something out of the corner of your eye and you're like, "wait, did I really just see that?" And you just have to turn that head around and maybe even the car around to get that second look. Here are some bizarre roadside attractions in Wyoming that will make you do a double take. Go ahead and embrace the weirdness, Wyoming!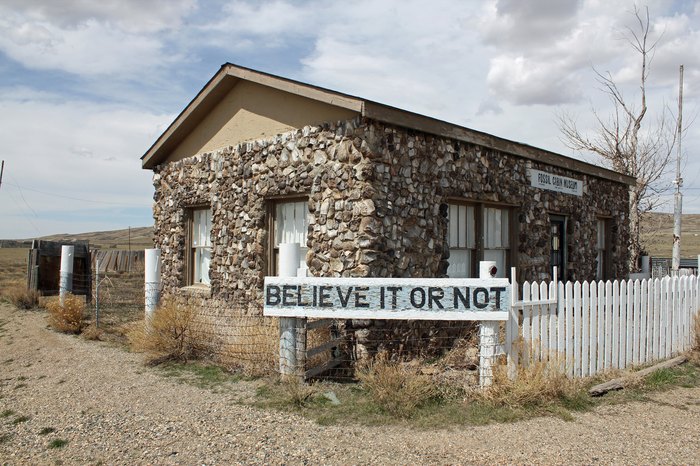 For other weird attractions in Wyoming, check out Here Are The 12 Weirdest Places You Can Possibly Go In Wyoming. Do you know of any other double-take attractions in Wyoming?
OnlyInYourState may earn compensation through affiliate links in this article.
Address: Rock River, WY 82083, USA
Address: Buford, WY 82052, USA
Address: Douglas, WY 82633, USA
Address: National Museum of Wildlife Art, 2820 Rungius Rd, Jackson, WY 83001, USA
Address: Wapiti, WY, USA
Address: 2332 Lisco Dr, Casper, WY 82601, USA
Address: Ames Monument, Wyoming 82052, USA
Address: 136 US Frst Service Rd 705 A, Laramie, WY 82070, USA
Address: Afton, WY 83110, USA
bizarre roadside attractions in Wyoming
May 06, 2021
What is the most scenic town in Wyoming?
Wyoming is home to dozens of scenic towns, but it's hard to top Centennial and Pinedale. Centennial is in the heart of the Snowy Range, surrounded by forest and mountain paths that seem to travel on forever. Medicine Bow Peak is one of the most popular hikes in this region. Over in Pinedale, you'll be at the gateway to the Wind River Range. From here, you can access some of the most remote and spectacular backcountry campsites in Wyoming, or hike a trail that takes you to a beautiful alpine lake. The biggest lake in the region, Fremont Lake, is the perfect recreation destination for anyone who loves being on the water.
What are the best little-known attractions in Wyoming?
Wyoming is home to some odd attractions, as you can see above! Beyond the list we just went over, some of the other strange and little-known attractions in Wyoming include the Vore Buffalo Jump, the Chugwater Soda Fountain, Hells Half-Acre, and the Pilote Butte Wild Horse Scenic Loop. Be sure to see them all to catch the side of Wyoming most people overlook, and you'll come away with a new appreciation for the Cowboy State.
What are the most well-known parks in Wyoming?
While there's a lot to discover off-the-beaten-path in Wyoming, it's hard to deny the absolute wonder of our internationally famous National Parks. Yellowstone National Park is an otherworldly wonder with more geothermal features than anywhere else on Earth, along with stunning mountains and diverse wildlife populations. Grand Teton is a wondrous place of alpine lakes and jagged peaks rising up seemingly out of nowhere from the valley floor, with homestead history preserved for all to enjoy.