10 Amazing Flea Markets In Wisconsin You Absolutely Have To Visit
Wisconsinites are known to be rather on the frugal side and there's just nothing quite are rewarding as finding a deal. There are plenty of awesome flea markets all over the state for you to bargain-hunt at, from the west to the east and back again.
If you've ever visited the midwest, then you probably know that the region is big on tradition and comfort. We love our big families, our warm homes, and ALL the family heirlooms. A flea market is like finding your own family memorabilia, with a little exploration involved. We've put together a list of the best flea markets in Wisconsin, and they're bound to leave you happy come the weekend. Take a look, fall in love, and perhaps make it a tradition.
Here are 10 of the best flea markets around Wisconsin: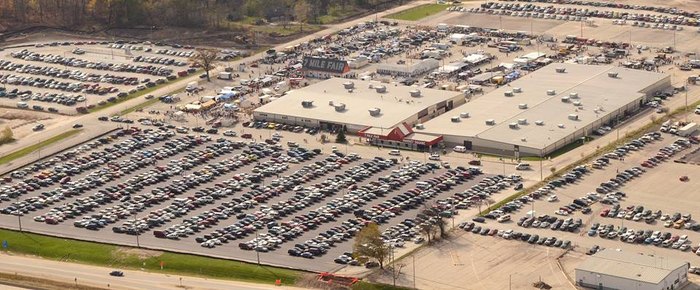 Where's your favorite place to haggle and look for great deals? Tell us about it in the comments!
Looking for more flea markets? Check out 8 Must-Visit Indoor Flea Markets In Wisconsin Where You'll Find Awesome Stuff
OnlyInYourState may earn compensation through affiliate links in this article.
Address: 2720 7 Mile Rd, Caledonia, WI 53108, USA
Address: 300 Superior St, Portage, WI 53901, USA
Address: Antigo, WI 54409, USA
Address: 800 Henriette Ave, Crivitz, WI 54114, USA
Address: 411 E Court St, Elkhorn, WI 53121, USA
Address: 1977 US-8, St Croix Falls, WI 54024, USA
Address: S Fulton St, Princeton, WI 54968, USA
Address: 3000 County Hwy PV, West Bend, WI 53095, USA
Address: 990 E Green Bay St, Shawano, WI 54166, USA
Address: 30820 111th St, Wilmot, WI 53192, USA
Best Flea Markets in Wisconsin
September 14, 2020
What are the most unique towns in Wisconsin?
Being in the heart of the American Midwest, Wisconsin has quite a few darling small towns that are full of local charm and beauty. If you can, take time to visit some of the following places:
You'll find a heap of Alpine-style architecture in New Glarus, a Wisconsin town known as "America's Little Switzerland"
Chippewa Falls is revered for its natural beauty
Baraboo is a town known for its history as the winter quarters for the Ringling Bros. Circus
Head to Princeton if you're looking to visit the state's largest outdoor flea market
Elkhart Lake is both a stylish and low-key respite from the wilds of the city
What are the oldest attractions in Wisconsin?
The oldest attractions in Wisconsin can be hard to nail down, but the following certainly make the list:
The Basilica of St. Josaphat in Milwaukee is one of the oldest buildings in the state, having been built in the late 19th century. It has served the south side of Milwaukee since its inception.
Wakely House in Nekoosa was built in 1842, and it's now one of the main tourist spots in the Wisconsin Rapids greater area.
You can't miss the Ernest Hueffner Building in Racine! It's stood for over 100 years and is one of the oldest in the Racine business district.
What are the best pumpkin patches in Wisconsin?           
It's never the wrong time to think about beloved pumpkin patches! Make note of the following places:
If you're looking for a fun day out and about with the kids, then you may want to head to the Treinen Farm Corn Maze and Pumpkin Patch in Lodi
Polly's Pumpkin Patch is a great spot if you're close to Chilton
Happ's Pumpkin Patch in Trevor is another top-rated patch for kids and families