Wisconsin's Old Lunch Car Diner, Frank's, Is A Unique Place To Dine
There are tons of restaurants in Wisconsin that serve unbelievably tasty grub. There are also plenty of eateries with unique surroundings. And sometimes, if you're lucky, you'll find a restaurant that offers both – and that's exactly the case with Frank's Diner. Not only does the decades-old diner serve delicious food, but it does so inside a former railcar. Take a look at this lunch car diner in Wisconsin. This place will knock your socks off.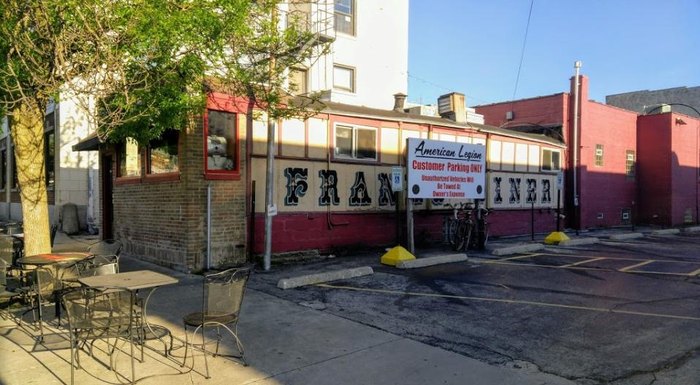 Have you ever been to this lunch car diner in Wisconsin? What's your favorite dish on the menu? Share your thoughts with us in the comments below! And if you know another nostalgic eatery in the Dairy State, nominate it for a chance to be featured.
Frank's isn't the only exciting diner in the state. If you're hungry for more, check out this remote eatery in Wisconsin.
OnlyInYourState may earn compensation through affiliate links in this article.
Address: 508 58th St, Kenosha, WI 53140, USA
lunch car diner in Wisconsin
July 14, 2020
What are the best diners in Wisconsin?
If you loved the nostalgic charm of Frank's Diner in Wisconsin, you should also visit Delta Diner in Mason. In addition to their magnificent burgers and scrumptious fries, this retro restaurant serves breakfasts that are to-die-for. Plus, the atmosphere is vibrant and welcoming. When you eat here, you'll feel like you're part of the family. Still hungry? Visit Monty's Blue Plate Diner in Madison. This '50s-inspired eatery serves all of the diner classics you crave, plus a mouthwatering vegetarian menu.
What are the best retro restaurants in Wisconsin?
Want to take a step back in time? There are so many wonderful retro restaurants in Wisconsin. First, visit Gus's Drive-In. This charming destination in East Troy is known for their wonderful burgers and rich frozen custard. To make things even more fun, this beloved business often hosts classic car shows! It's the perfect way to enjoy a taste of the past. If you loved this place, you should also visit The Classic Garage in Eau Claire. This unique diner was once an auto repair shop, and it has retained all of its old school charm.
What are the best pizza places in Wisconsin?
As the Dairy State, Wisconsin is home to some of the most delicious pizzas in the country. With so many scrumptious options, it can be hard to know where to go first. When that pizza craving hits, turn to our ultimate Wisconsin pizza bucket list. This article features 19 places across the state that serve a variety of tasty pies.