Take A Canopy Tour At Lake Geneva In Wisconsin To See The Fall Colors Like Never Before
There's something so soothing about the changing of seasons and the changing of leaves here in Wisconsin. Those who move away lament the loss of four true seasons, so those of us still here should definitely take advantage of getting to experience Fall in all its glory. Sure, you can get in your car and drive around looking for pretty leaves to peep. But you could also get out an immerse yourself in the forest while checking out the best fall canopy tour in Wisconsin.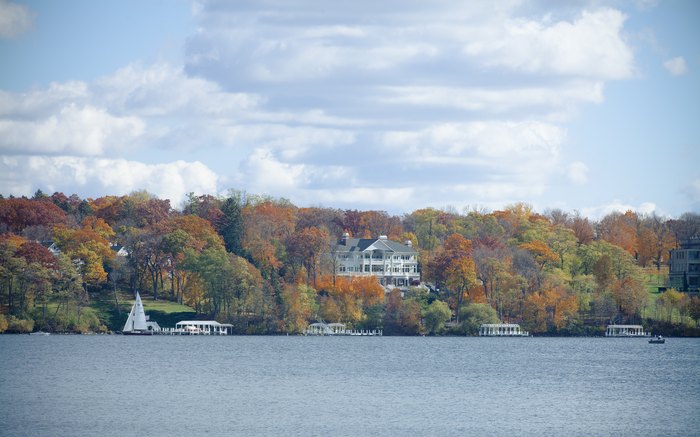 But don't just take my word for it – this video does plenty to convince you this is a trip you HAVE to take.
Click here to learn more about the Lake Geneva Tour Company.
Address: N3232 County Road H, Lake Geneva, WI 53147
Looking for more great fall colors? Check out The 12 Best Backroads In Wisconsin For A Long Scenic Drive.
Best Fall Canopy Tour In Wisconsin
September 20, 2019
What other places in Wisconsin offer canopy tours or similar adventures?
If you're looking for things to do in fall in Wisconsin, then there are plenty of canopy tours to consider beyond Lake Geneva. In fact, if you're tackling canopy tours in the state, then you'll likely open yourself up to enjoy some of the best views Wisconsin has to offer. The best place to see fall colors in Wisconsin is high above the treetops, which is why the canopy tours during autumn are so popular. A few of the best places in Wisconsin offering up a canopy or zip-lining tours include Bigfoot Zipline, Northwoods Zip Line, Vertical Adventure Guides, Trollhaugen Outdoor Recreation, and Boundless Adventures.
What is the best way to experience fall foliage in Wisconsin?
One of the best ways to experience the fall foliage in Wisconsin is by immersing yourself in nature whether that be through camping or hiking. Fall hiking in Wisconsin is a huge pastime for residents, especially when the leaves begin to change color for the season. If you're looking to experience fall foliage in Wisconsin firsthand, then start planning your next camping trip. With the autumn season as long as it is, you can probably tackle quite a few of the campgrounds throughout each month! A few of the best campgrounds to consider in Wisconsin include Yogi Bear's Jellystone Park, Devil's Lake State Park, Richard Bong State Recreation Area, and High Cliff State Park.
What are the best hiking trails to take in the fall in Wisconsin?
There are plenty of opportunities to go fall hiking in Wisconsin, including 400 State Trail, Ahnapee State Trail, Amnicon Falls State Park, and the Antigo Springbrook Trail. Sometimes you'll find the best hiking trails throughout many of the state parks within Wisconsin. Make sure to plan your hiking trip for exactly when the leaves are in peak color this autumn.