The Story Behind This West Virginia Ghost Town Will Fascinate You
Thurmond, West Virginia, located in Fayette County, went from a prosperous small town to a near-ghost town with just five inhabitants. The town's story and its remarkably well-preserved buildings will make you want to take a stroll through it…just don't look for a street or sidewalks to stroll down, because time has taken its toll on this once-bustling town.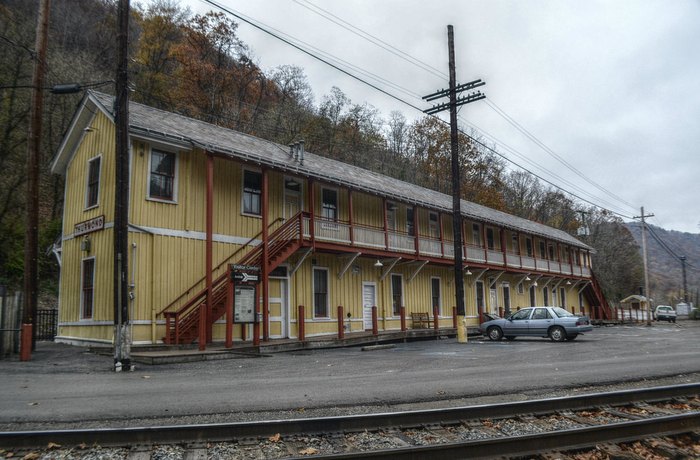 Like many old train towns, as technology advanced and our dependency on the railroad declined, Thurmond succumbed to the passing of time. Thurmond's fascinating history will be preserved only through the passing on of stories and experiences. Have you ever explored the almost-abandoned Thurmond, West Virginia ghost town? What did you experience there? Do you think it's haunted? Let us know in the comments.
OnlyInYourState may earn compensation through affiliate links in this article.
More to Explore
More abandoned towns like the Thurmond ghost town
Why is Thurmond West Virginia abandoned?
Many small towns are kept alive because they have one thriving business or industry. Such is the case with Thurmond. After the locomotive industry switched to diesel trains, Thurmond's steam locomotives were fazed out. The Great Depression also took its toll, killing off one of the two banks in town, and the other moved away. Then the fires hit, wiping out many other businesses that helped the town get by.
Are there any ghost towns in West Virginia?
West Virginia, like many other states, has old towns that haven't survived for one reason or another. Whether you consider these ghost towns or simply neglected and abandoned towns, the feeling is the same. They feel like ghost towns, whether they are believed to actually be haunted or not. Here are some other ghost towns in West Virginia:
1. Royal, WV
2. Nuttallburg, WV
3. Thurmond, WV
4. Gad, WV
5. Kaymoor, WV
6. Kayford, WV
7. Sewell, WV
8. Spruce, WV
How many abandoned towns are in West Virginia?
There are more than 65 abandoned towns in West Virginia. Many of these abandoned towns have stories and legends about tragic events or mysterious occurrences that lead some to believe they are haunted. Whether or not they are actually inhabited by ghostly prior residents, it has led to a booming haunted tour industry in many parts of West Virginia. Check out these six haunted houses in West Virginia:
1. The Haunted Barn in Charleston
2. Miller's Nightmare Haunted Farm
3. Greyskull Manor in Clarksburg
4. The Trans-Allegheny Lunatic Asylum
5. Haunted theatre at the Apollo Civic Theatre in Martinsburg
6. The West Virginia Penitentiary in Moundsville
Related Articles
Explore West Virginia
Featured Addresses