There's A Park Hidden In Plain Sight In West Virginia Where Three States Meet
West Virginia has a unique geography. Did you know that it shares a border with five other states? Those are Virginia, Maryland, Pennsylvania, Ohio, and Kentucky. While it's not possible to be in all five of those places at once, you can almost be in three places at once when you visit the West Virginia town of Kenova. Located on the Ohio, Kentucky, West Virginia border, this unique locale is definitely worth checking out.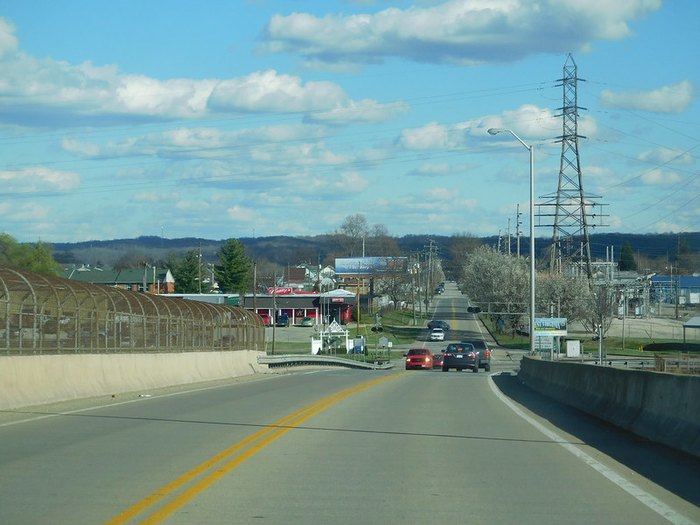 There are at least two other places in West Virginia where 3 state borders meet, but this is the only one (as far as we know) that is clearly marked and easily accessible to the public.
If you visit Virginia Point Park, be sure to grab lunch at the nearby Stewart's Original Hot Dogs or Griffith and Feil's Soda Fountain!
Isn't it fun to learn about some of the unique locations around the state? Have you been to Virginia Point Park? What other little-known interesting and/or informative sites have you discovered in West Virginia?
OnlyInYourState may earn compensation through affiliate links in this article.
Address: Virginia Point Park, VA Point Park, Kenova, WV 25530, USA
West Virginia Border
May 10, 2023
Which states border West Virginia?
West Virginia is bordered by the following states:
Ohio
Pennsylvania
Maryland
Virginia
Kentucky
The eastern border of West Virginia is created by the Appalachian Mountains and the western border is created by the Ohio River.
What are some fun facts about West Virginia?
West Virginia may just be one of the most underrated states in the U.S. Brimming with natural wonders, charming small towns, and historic landmarks, there's simply no shortage of things to do here. Curious to learn more about the Mountain State? Check out the following fun facts about West Virginia:
West Virginia celebrated the first Mother's Day
The Golden Delicious apple was discovered in 1995 and was originally called the Grimes Golden
Once part of Virginia's territory, West Virginia became its own state in 1863 and was the 35th state in the U.S.
New River Gorge National Park is among the newest national parks in the country
The building that once housed the Trans-Allegheny Lunatic and Asylum is the largest cut-stone masonry building in the world
What are some of the most famous landmarks in West Virginia?
If you're curious to explore the best of West Virginia, we'd recommend adding the following adventures to your buckets list:
Hike the Endless Wall Trail in Fayetteville
Raft or kayak the Gauley River
Spend a night at the Greenbrier Resort
Stay at the Blennerhassett Hotel
Visit the Coal House in Mingo County
Have tea in Chester, home of the world's largest teapot
Take a ride on the Cass Scenic Railroad
Ghost hunt at the Trans-Allegheny Lunatic Asylum or the West Virginia Penitentiary
Take a dip in George Washington's bathtub
Take in a WVU or Marshall game
Play, dance, or just watch at the Vandalia Gathering in Charleston
Walk through history at Harpers Ferry
Enjoy the Swiss food and culture of Helvetia in Randolph County