Step Inside The Creepy, Abandoned Town Of Kayford In West Virginia
West Virginia is known for its expansive geographical wonders, but most folks haven't heard of its mysterious ghost towns. Since the state has an intense mining history, there are quite a few spaces and places throughout that have experienced a season of growth and then sudden depletion. There is one place that can even be called the creepiest abandoned town in West Virginia: Kayford, WV.
The tiny and now fairly forgotten coal-mining town of Kayford was once a thriving community, outfitted with a general store, a school, and a church. The miners and their families lived on the mountain for over 200 years, until changes in coal mining led most of the town to disappear. The town revolved around coal mining, but Mountain Top Removal put many of those miners out of work and made the area dangerous. Health hazards, toxic water, and unstable ground have managed to make this an area that few people want to visit.
Don't risk it, folks. We'll show you the wonders of Kayford, West Virginia, and allow you to step inside, right from the comfort of your own computer. Check it out!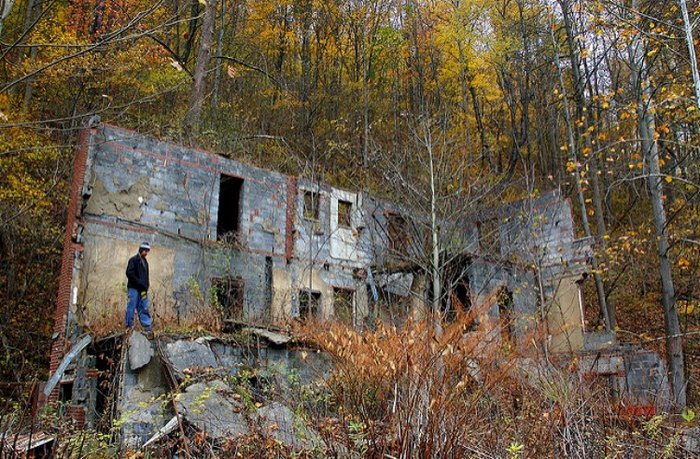 It's a beautiful, eerie experience to see the town of Kayford, WV. It's a town that once had the world at its feet, yet now has merely become a memory, one of the best-known abandoned places in West Virginia. Have you been? Would you visit?
If you're looking for another adventure, make sure to check out the remnants of another coal-mining town, check out the abandoned town of Kaymoor.
OnlyInYourState may earn compensation through affiliate links in this article.
More to Explore
Kayford WV
What other abandoned places are there in West Virginia?
There are all sorts of unique abandoned places in West Virginia, including:
Lake Shawnee Amusement Park in Princeton
The ruins of the St. John's Episcopal Church in Harpers Ferry
Point Pleasant's TNT Bunkers
The Machine Shop in Coalwood
Are there any hiking trails to abandoned places in West Virginia?
There are a handful of hiking trails in West Virginia that will lead you to extraordinary ruins. Bend Rail Trail takes you along the path of an old railroad and will take you by the remnants of old towns and railroad stops. Narrow Gauge Trail Reveals the ghost town of Sewell, while Kaymoor Miners Trail takes folks by the remnants of a long-forgotten mining community. If you're looking for a more exhaustive list, check out these incredible West Virginia hiking trails.
What ghost towns can you find in West Virginia?
There are all sorts of ghost towns in West Virginia, mainly due to its history as a mining community. Check out Kaymoor, a restored mining townsite, or Winona that's empty except for one active church. Thurmond, Nattalburg and Sewell are also famed ghost towns, each of them eerier and more interesting than the last.
Related Articles
Featured Addresses