The Ultimate West Virginia Hidden Gem Road Trip Will Take You To 6 Incredible Little-Known Spots In The State
Sometimes it's nice to escape the crowds and find some quiet enjoyment at a little-known oasis. Thankfully, there are lots of hidden gems in West Virginia, so no matter where in the state you find yourself, you're likely to find a diamond in the rough hiding nearby. The only thing better than a trip to a quiet, beautiful, little-known spot? Visiting six of them!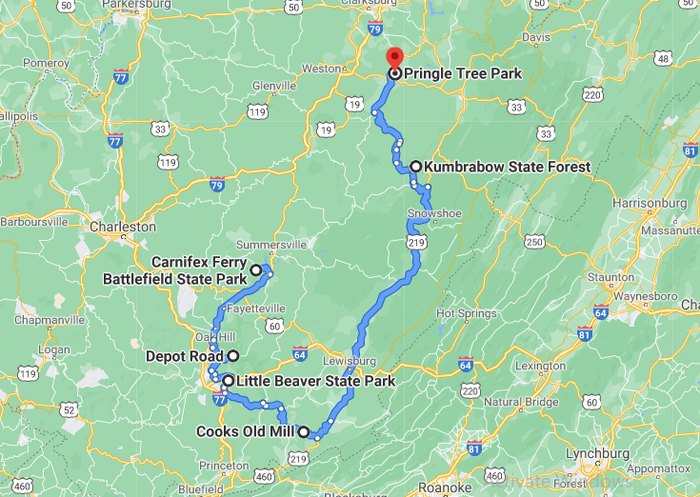 Have you ever visited any of these hidden West Virginia gems? Which one was your favorite? To set out on this hidden gem road trip yourself, see the route on Google Maps here.
If you get hungry along the route, consider a stop for a hotdog at Skyline Drive-In not far from the Prince Depot and Little Beaver State Park – this is another hidden gem that became famous as Hank Williams's last stop!
Address: Carnifex Ferry Battlefield State Park, 1194 Carnifex Ferry Crossing, Summersville, WV 26651, USA
Address: Cooks Old Mill, WV-122, Greenville, WV 24945, USA
Address: Little Beaver State Park, 1402 Grandview Rd, Beaver, WV 25813, USA
Address: Depot Road, Depot Rd, West Virginia 25813, USA
Address: Pringle Tree Road, Co Rte 119/2, West Virginia 26201, USA
Address: Kumbrabow State Forest, West Virginia 26294, USA
Hidden Gems in West Virginia
May 27, 2022
What are some amazing West Viriginia hidden gems?   
Who says you can't find interesting West Virginia hidden gems? Ignore anyone who tells you that, because when it comes to offbeat attractions and hidden gems in West Virginia, we know where all the best ones are. For example, did you know there's a Mothman Museum in Point Pleasant, which was said to have been the location for sightings of the monster in the 1960s? If you prefer your West Virginia hidden gems to be more of the natural variety, never fear – we know of plenty of those, too. Head out to Milton and check out the Foxfire KOA Campground, which has a pristine lake and is surrounded by lush forest.  
Where are some interesting little-known places in West Virginia?  
West Virginia isn't an enormous state, but it sure is scenic. Sure, you can always go to the popular attractions and nature spots, but why not go a little off the beaten path instead? There are all kinds of little-known places in West Virginia perfect for an afternoon out, or maybe even a day trip. Check out the breathtakingly beautiful Stonewall Jackson Lake, which is within Stonewall Jackson Lake State Park. It's quite lovely and has an impressive 82 miles of shoreline to enjoy! If you're a fan of state parks, Tomlinson Run State Park is another lesser-known place in West Virginia to get away from it all and enjoy nature. 
What kinds of fun West Virginia road trips can I do?  
The only limit when it comes to West Virginia road trips is your imagination! No matter what you like or are interested in, you're sure to love exploring this beautiful state by way of road trip. Embark on an amazing waterfalls in West Virginia road trip, or maybe check out some intriguing and spooky ghost towns road trips in West Virginia, too. If you're a foodie, you can make road trips out of everything from the best ice cream in West Virginia to the best barbecue in West Virginia, and if you feel a little adventurous, you can put together a trip of some of the state's most haunted locations.  
Address: Carnifex Ferry Battlefield State Park, 1194 Carnifex Ferry Crossing, Summersville, WV 26651, USA
Address: Cooks Old Mill, WV-122, Greenville, WV 24945, USA
Address: Little Beaver State Park, 1402 Grandview Rd, Beaver, WV 25813, USA
Address: Depot Road, Depot Rd, West Virginia 25813, USA
Address: Pringle Tree Road, Co Rte 119/2, West Virginia 26201, USA
Address: Kumbrabow State Forest, West Virginia 26294, USA