You Can Live Off The Grid In This Washington Town Considered The Best In The Country
It isn't easy to go off the grid these days—but luckily, Washington is a state that makes it pretty simple. Our hiking trails, quiet beaches, national parks, and abundance of nature mean we're all a few hours from a peaceful escape at any given time. However, eventually, we head home to our screens, traffic, and busy, fast-paced lives. Recently, Livability created a list of the 12 best places in America to live off the grid. We were surprised to see a local place on the list that wasn't Stehekin, Point Roberts, or a rural community in Eastern Washington. But take a closer look at Gig Harbor and you'll see that they make a solid point for living off the grid in Washington here.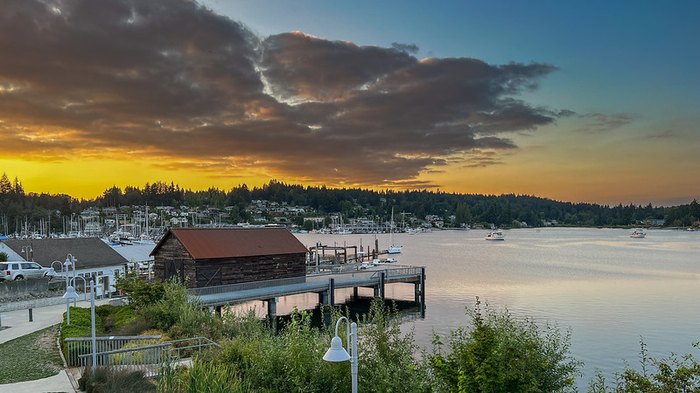 What are your favorite spots for living off the grid in Washington when you need to unplug?
OnlyInYourState may earn compensation through affiliate links in this article.
Address: Gig Harbor, WA, USA
Natural Washington
March 10, 2023
What are the best hikes in Washington to go on? 
A great way to unplug and tap back into nature is by taking one of the many available hikes in Washington. Here are some of the best places to do just that:
Bowl and Pitcher Loop Trail in Riverside State Park is a two-mile loop that offers a swinging bridge and gorgeous views of big basalt formations.
Wallace Falls is a longer hike at 5.5 miles, but totally worth it for the three waterfalls you will see and all of the charming footbridges and walkways along the way.
The Hoh Rainforest is the only land of its kind in North America and you can take a 1.1-mile hike through what is known as the hall of mosses within it. You will absolutely feel like you've left the modern world on this easy hike.
Are there any natural wonders in Washington? 
There are so many wildly impressive natural wonders in Washington that you have to visit, such as:
Diablo Lake, one of over 8,000 lakes in Washington state, it stands out as a natural wonder due to its' bright turquoise hue that looks more at home in a tropical paradise.
Mt. St. Helens is home to living history, and while we are lucky as we will likely never see it go off again, it is really something to look at.
Columbia River Gorge lies in Washington, but it very much is still part of the state. The impressive canyon border between Washington and Oregon started forming 17 million years ago, now that's some history!
Can I find any waterfalls in Washington? 
If you want to admire some of the waterfalls in Washington, a few great options are:
Myrtle Falls, a 72-foot waterfall located in Mount Rainier National Park. There is a charming little viewpoint that leads out to the falls so you can get the best possible view.
Marymere Falls is 90 feet tall and hidden in an old-growth forest. It is a short hike, less than 2 miles to reach the falls but well worth it for the fairytale-like sight.
Spoon Creek falls, is a two-tier waterfall that is woefully underrated. At 70 feet tall it's a sight to behold and its spoon-like shape is pretty cute!