10 Disturbing Cemeteries In Virginia That Will Give You Goosebumps
It might sound a bit cliché — a creepy, haunted graveyard. I know, I know. It's so grade-B horror movie ridiculous. Or, it's not… and cemeteries can actually be haunting — or haunted, but that's up to you. Maybe it's the story behind them, or just the way the light hits when you visit, but something feels otherwordly all the same. Here are 10 disturbing cemeteries in Virginia that aren't for the faint of heart.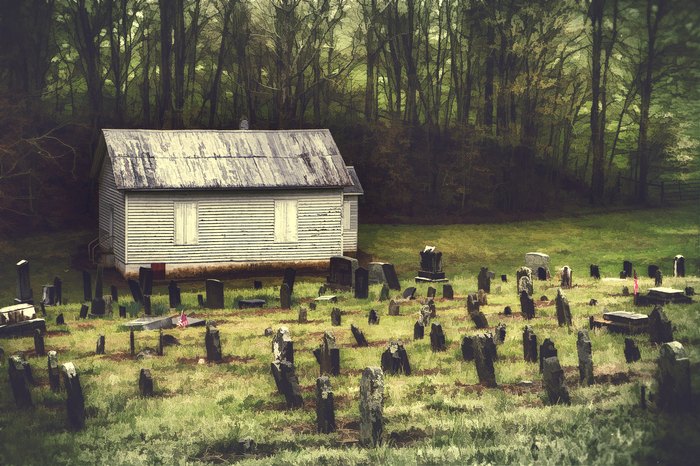 What are your thoughts about these disturbing cemeteries in Virginia? You have to admit, no matter how spooky the backstory, no matter how haunted the legends, there's still something intriguing about each of these places. Do you have a favorite cemetery? One that you like to go to for peace and tranquility or one that you like to go to for a good chill up your spine — tell us about it in the comments below!
OnlyInYourState may earn compensation through affiliate links in this article.
More to Explore
Disturbing Cemeteries in Virginia
What are the most haunted places in Virginia?
Once you've made your way through our list of disturbing cemeteries in Virginia, there are plenty of other creepy places to visit! Virginia's extensive history lends itself to plenty of haunted locales. While cemeteries may seem like an obvious place for hauntings, there are countless other destinations throughout the state where your chances of encountering something paranormal are higher than average. The following is a list of some of the most haunted places in all of Virginia: the Peyton Randolph House in Williamsburg, St. Albans Sanatorium in Radford, the Exchange Hotel Civil War Medical Museum in Gordonsville, Henricus Historical Park in Chester, Historic Jordan Springs in Stephenson, Cold Harbor Battlefield in Mechanicsville, the Graffiti House at Grandy Station, Ferry Plantation House in Virginia Beach, the Weems-Botts Museum in Dumfries, and Historic Avenel in Bedford. While you're at it, check out these haunted streets in Virginia... if you dare.
Does Virginia have any famous ghost stories?
Yes, it's true that many of Virginia's most haunted places are associated with famous ghost stories. One prime example takes place at Gadsby's Tavern in Old Town Alexandria, Virginia. George Washington himself once frequented this tavern, which still remains open to visitors today. One of the most famous ghost stories is that of a woman who traveled to Alexandria by ship with her husband in 1816. She contracted a disease on the ship and, upon arriving at the tavern, her health quickly took a turn for the worst. Something peculiar happened just before her death: she made everyone there swear they would never reveal her true identity. To this day, her gravestone is marked "Female Stranger." There are several locations in Alexandria that are reportedly still haunted by her spirit today. If you're up for more, check out our haunted road trip in Virginia.
Does Virginia have any ghost towns?
You might conjure up imagines of the Old West when you think of the term ghost town, but it's true that Virginia is home to many of these abandoned places as well. Some of the most famous ghost towns in Virginia include Matildaville at Great Falls National Park, Wash Woods at False Cape State Park, Pocosin Mission in Shenandoah National Forest, Lignite in Botetourt County, and Elko Tract in Henrico County. Curious to learn more about these abandoned towns? Read our previous article: These 7 Ghost Towns In Virginia Are Hauntingly Beautiful.
Related Articles
Featured Addresses

Lake Monticello, VA 22963, USA

401 Taylor St, Lynchburg, VA 24501, USA

1450 Wilkes St, Alexandria, VA 22314, USA

Hollywood Cemetery, 412 S Cherry St, Richmond, VA 23220, USA

Balls Bluff Rd, Battlefield, VA 22407, USA

Western State Hospital, 103 Valley Center Dr, Staunton, VA 24401, USA

5515 Anderson Wright Dr, Mechanicsville, VA 23111, USA

2591 Ridge Rd, Powhatan, VA 23139, USA