These 11 Houses In Virginia Have The Most Unbelievable Christmas Decorations
Recently, we brought you a list of some of the best Christmas light displays in Virginia. These are all large-scale holiday productions, undoubtedly planned and assembled by teams of people – or perhaps Christmas elves. Who knows. Either way, they are impressive. But then, we started looking at private homes – and that's when things got real. Virginia has HUNDREDS of people who personally take on the challenge of turning their homes into a winter wonderland year after year. Hundreds of thousands of lights and more inflatable snowmen that we can count later…here are some of our favorite Christmas lights in VA.
1. Get your Christmas spirit in full gear with the festivities at 1510 Claiborne St. in Richmond.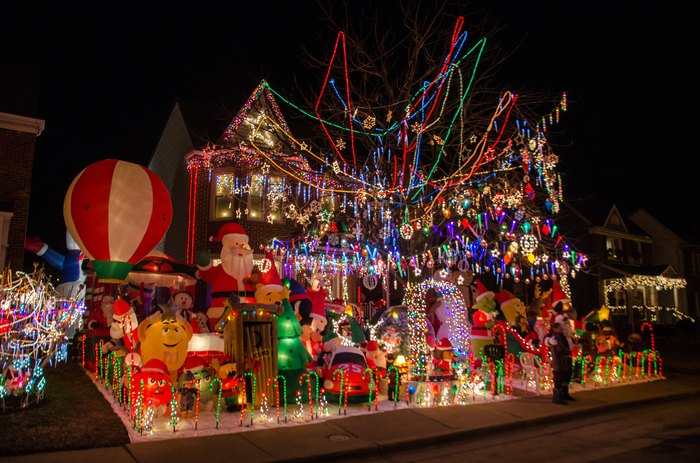 With 40 inflatables, an animatronic Santa, and a helicopter on the roof, this house near Byrd Park is all about Christmas cheer, year after year.
2. Whatever you do, don't miss this video. Through footage shot by a drone, you'll see Christmas lights in a whole new way at this house on Wendhurst Drive in Richmond.

While this footage was shot in 2014, it's well worth watching. Every year since 1999, the Johnsons have been lighting up the neighborhood with more than 170,000 lights and nearly 800 homemade decorations. Find it at 9716 Wendhurst Drive in Richmond.
3. For pure Christmas magic, it's hard to beat this lights and music display at 5316 S. Palmyra Drive, Virginia Beach.

Be sure to watch the windows to see Santa putting presents under the tree and listen at 0:15 for the little boy asking, "Is that the real Santa, Daddy?" It will make you believe, we promise.
4. To visit Santa, stop by 608 N Commerce Ave in Waynesboro. The only catch is that you'll have to find him among all the lights!
This family has been making their display bigger and better every year since 2000. Best of all, Santa comes by every night to hand out candy canes. Santa will be on hand from Thanksgiving until Christmas Eve.
5. Christmas lights and Trans Siberian Orchestra? Yes, please!

If you agree, be sure to check out this house in Roanoke (and keep track of all the amazing houses you'll find on the Neighborhood Christmas Lights Facebook group for Salem and Roanoke.
6. Head over to 6387 Wedgewood Rd. in Mechanicsville for a Christmas lights spectacular you won't soon forget.
Featuring 50,000 lights (or more) along with more than 20 inflatables and seven Christmas trees on the front porch, this is a house that takes Christmas in Virginia very seriously.
7. If you're near Lebanon this Christmas, be sure to take a driving tour through these beautiful Christmas neighborhoods.

Keep an eye on the official Town of Lebanon Virginia Facebook page for the most up-to-date info about neighborhood holiday light displays in VA.
8. Dale City does it right with the Johnston's award-winning Christmas Wonderland.
Located on Evansdale Road, the Johnston family is hoping for a repeat win this year. They have won the Thompson Creek "Holiday House Proud" lights contest many times and gave their $500 prize to the Woodbridge Homeless Outreach.
9. Lugo's Winter Wonderland lights up the night with 22,000 or more lights.
To see this incredible lights display, stop by 12031 Hunters Hawk Ct. in Chesterfield.
10. A Christmas lights memorial at 2100 Rosewood Avenue in Richmond is a beautiful tribute to a lost son.
Although Lawrence Johnson, Jr. passed away in 1997, his mother, Virginia Johnson, carries on his tradition of extravagant lights to this day. Although this photo was taken in 2012, Ms. Johnson is expected to have her lights shining bright in 2022.
11. And finally, this house off Richmond Highway in Alexandria is simply stunning.
You can find it at 2507 Fairview Dr., Alexandria, Virginia.
Are there any Christmas lights in VA that you would add to the list? We would love to hear about them – better yet, send pictures! And if you'd like to check out some of the best lights in your neighborhood, be sure to check online for local "tacky lights tours" or visit the online resource, Tacky Light Tours, on the official website. In the meantime, feel free to post your thoughts and contributions in the comments!
Address: 1510 Claiborne St, Richmond, VA 23220, USA
OnlyInYourState may earn compensation through affiliate links in this article.
Christmas Lights in Virginia
November 02, 2022
Where can I see the best Christmas lights in Virginia? 
Christmas in VA is a splendidly magical time. Winter in this beautiful state is already a treat, so when the winter holidays arrive, we're really in business! One of the best traditions of all is grabbing friends or family and checking out various Christmas lights displays in VA; there are many, and you could create an entire Christmas lights road trip in VA out of them if you wanted to. Some of our favorites include Celebration in Lights, which was the first-ever drive-thru Christmas lights display in Virginia. Or, head to Centreville and indulge in the wonderful Bull Run Festival of Lights, which stretches more than two and a half miles across Bull Run Regional Park. These are far from the only ones – more on that in a moment!  
What is Christmas in VA like?  
Virginia at Christmas is a delightful, magical time, filled with happiness, warmth, and wonder, despite the cold weather! It seems like everywhere you go you'll find stunning holiday displays – the best holiday displays in VA are oftentimes found in average neighborhoods! Everyone's just a little friendlier, and should you visit one of the many wonderful Christmas villages in Virginia, you'll be transported straight to the North Pole (or at least it'll feel like you have).  
Where are the best holiday displays in VA? 
If you thought the list of amazing holiday displays in VA stopped at just the couple of ideas mentioned above, you have a lot to learn about Christmastime in Virginia. No matter which delightful Christmas town in VA you visit, you'll find an entire set of new traditions to fall in love with. Head to beautiful Williamsburg and check out the awe-inspiring Christmas Town at Busch Gardens. As if Busch Gardens wasn't cool enough – now it's a Christmas town, too. You'll also love a meander through the Dominion Festival of Lights, at Lewis Ginter Botanical Gardens in Richmond, which comes alive with hundreds of thousands of stunning holiday lights. You also can't pass up a night at the Illuminate Light Show and Santa's Village at the Meadow Event Park in Doswell.  
Address: 1510 Claiborne St, Richmond, VA 23220, USA
OnlyInYourState may earn compensation through affiliate links in this article.