The One Mesmerizing Place In Vermont To See The Northern Lights
There are a few places to go for the best chances to see the northern lights, specifically within the Arctic Circle. But did you know that you can see the northern lights in Vermont? You sure can! We have two awesome videos and some incredible photos from two photographers who were able to capture this natural phenomenon on camera in none other than Malletts Bay in Colchester.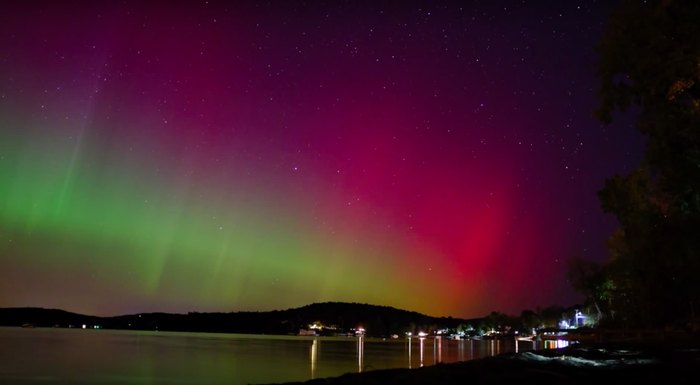 Are you ready to start chasing the northern lights in Vermont? We don't really blame you! But one thing is for certain… After you see these lights in person the first time, you'll know that once will never be enough. If you enjoy natural phenomena, you've got to check out these 12 natural phenomena in Vermont that will absolutely baffle you.
OnlyInYourState may earn compensation through affiliate links in this article.
Address: Malletts Bay, Burlington, VT, USA
Northern Lights In Vermont
June 16, 2022
Where else can you see the northern lights in Vermont?
Although Mallets Bay is one good option, there are a few other places that may be suitable for chasing the aurora borealis in Vermont. Delta Park in Colchester, Ricker Pond State Park, or Causeway Park are all other options for spotting the northern lights. Remember that the season for catching the northern lights starts in the fall and ends around April. Take a look at NOAA's aurora borealis forecast to see if you have a chance of seeing the northern lights near you anytime soon.
What are some other natural wonders in Vermont?
There are some incredible natural wonders in Vermont that are unique to the state. Quechee Gorge, "the Grand Canyon of Vermont," drops 165 feet down to the Ottauquechee River, creating a stunning landscape you're unlikely to forget. The Green Mountains are, of course, famously beautiful and the source of the Green Mountain State nickname. During the fall, Green Mountain National Forest transforms into shades of vibrant red and orange and gold, drawing travelers from all over the country to see nature's finest art show. Visit our guide to 16 of Vermont's best natural wonders for more to add to your bucket list.
What are some unique attractions in Vermont?
Vermont is full of strange and unique attractions, from a plethora of bizarre museums to a dog chapel…as in a chapel specifically for dogs (located, of course, on Dog Mountain). For an especially fascinating activity to do in Vermont, visit the Bellows Falls petroglyphs. These are two clusters of petroglyphs with unknown origins, though it has been theorized that they were created by the Abenaki people. Or if you want to spend the whole day exploring a unique town in Vermont, visit Barre for a day trip, and don't forget to stop by the Rock of Ages Quarry.