These 16 Beautiful Covered Bridges In Vermont Will Remind You Of A Simpler Time
Covered bridges are a quintessential scene in Vermont and while they physically connect two distinct areas, they also separate the old from the new. After all, you can't exactly drive an 18-wheeler over one of these classic and historic structures. Vermont's covered bridges were designed to have roofs for many reasons. The first, and perhaps the most important, was to protect the structure from the elements, as it was much easier to replace roofs than roads. Also, the wall coverings were welcomed by farmers because the sides helped cattle over the bridge, as the sight of the rushing water made them hesitate. Sides and roofs also made the structures stronger and more durable. The design and construction of these covered bridges embody the sentiment: They don't make them like that anymore! Vermont's covered bridges play an important role in Vermont's history, and here are some of our favorite covered bridges in Vermont: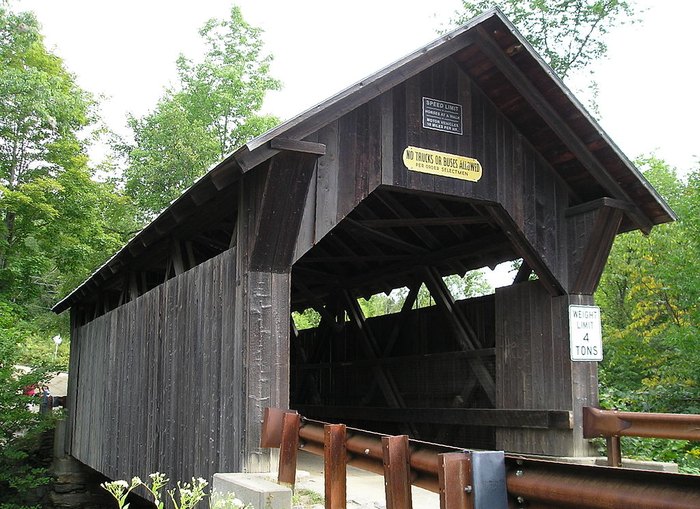 With over 100 Vermont covered bridges to choose from, we would love to year from YOU! What are some other covered bridges in Vermont that you would like to see featured? Let us know!
Address: Gold Brook Covered Bridge, Covered Bridge Rd, Stowe, VT 05672, USA
Address: Brown Covered Bridge, 5290 Cold River Rd, Shrewsbury, VT 05738, USA
Address: Silk Road Covered Bridge, Silk Rd, Bennington, VT 05201, USA
Address: Hammond Covered Bridge, Kendall Hill Rd, Pittsford, VT 05763, USA
Address: Pulp Mill Covered Bridge, Weybridge, VT 05753, USA
Address: Worrall Covered Bridge, Bellows Falls, VT 05101, USA
Address: Gorham Bridge, 256 Gorham Bridge Rd, Florence, VT 05744, USA
Address: West Dummerston Covered Bridge, W Dummerston Covered Bridge, Dummerston, VT 05301, USA
Address: Kidder Covered Bridge, 99 Water St #53, Grafton, VT 05146, USA
Address: Bowers Covered Bridge, 243 Bible Hill Rd, Brownsville, VT 05037, USA
Address: Arlington Covered Bridge, Covered Bridge Rd, Arlington, VT 05250, USA
Address: Creamery Covered Bridge, 500 Western Ave, Brattleboro, VT 05301, USA
Address: Chiselville Covered Bridge, 412 Sunderland Hl Rd, Sunderland, VT 05250, USA
Address: Stony Brook Covered Bridge, Stony Brook Rd, Northfield, VT 05663, USA
Address: Halpin Covered Bridge Road, Halpin Covered Bridge Rd, Middlebury, VT, USA
Address: Mill Road, Mill Rd, Tunbridge, VT, USA
Vermont Covered Bridges
July 04, 2022
What are the best outdoor adventures in Vermont?
Vermont is full of epic outdoor adventures just waiting for you. In addition to taking a road trip to some of the best covered bridges in Vermont, you can lace up your boots and tackle one of the many hiking trails in Vermont, many of them leading to epic waterfalls and swimming holes. The fun doesn't have to end in the winter, either. When the Green Mountain State is blanketed with snow, enjoy all of the wonderful winter activities in Vermont like tubing, snowshoeing, and, of course skiing.
What are the most unique things to do in Vermont?
Some of the best adventures can be found when you step away from the beaten path, and Vermont has plenty of unique attractions to keep you on your toes. When you want to experience the unique side of Vermont, pay a visit to one of the unique museums in Vermont that showcase a different side of Vermont history like the perfectly preserved Plymouth Notch or the Dog Chapel in St. Johnsbury.
What is the most naturally beautiful town in Vermont?
There are so many beautiful towns in Vermont, it's hard to pick a favorite, but Grafton is certainly top of the list. This picturesque town is home to many historic buildings, charming streets, restaurants, and lovely views including one of the most scenic covered bridges in Vermont. Of course, cheese lovers would have a blast exploring Cabot, headquarters for that famously delicious cheese.
Address: Gold Brook Covered Bridge, Covered Bridge Rd, Stowe, VT 05672, USA
Address: Brown Covered Bridge, 5290 Cold River Rd, Shrewsbury, VT 05738, USA
Address: Silk Road Covered Bridge, Silk Rd, Bennington, VT 05201, USA
Address: Hammond Covered Bridge, Kendall Hill Rd, Pittsford, VT 05763, USA
Address: Pulp Mill Covered Bridge, Weybridge, VT 05753, USA
Address: Worrall Covered Bridge, Bellows Falls, VT 05101, USA
Address: Gorham Bridge, 256 Gorham Bridge Rd, Florence, VT 05744, USA
Address: West Dummerston Covered Bridge, W Dummerston Covered Bridge, Dummerston, VT 05301, USA
Address: Kidder Covered Bridge, 99 Water St #53, Grafton, VT 05146, USA
Address: Bowers Covered Bridge, 243 Bible Hill Rd, Brownsville, VT 05037, USA
Address: Arlington Covered Bridge, Covered Bridge Rd, Arlington, VT 05250, USA
Address: Creamery Covered Bridge, 500 Western Ave, Brattleboro, VT 05301, USA
Address: Chiselville Covered Bridge, 412 Sunderland Hl Rd, Sunderland, VT 05250, USA
Address: Stony Brook Covered Bridge, Stony Brook Rd, Northfield, VT 05663, USA
Address: Halpin Covered Bridge Road, Halpin Covered Bridge Rd, Middlebury, VT, USA
Address: Mill Road, Mill Rd, Tunbridge, VT, USA