There's A Magical Sunflower Field Tucked Away In Beautiful Texas
Editor's Note: Unfortunately, this farmer no longer grows sunflowers in this location. For other suggestions of where to look for flowers blooming in Texas, be sure to check out the suggestions in the Visitor's Center below.
This time of year in Texas is incredibly unique. We may not experience winter like the Northern states do, but we also get to enjoy the vibrancy and new life of spring before them. It's a give-and-take situation. We sure aren't complaining, though – really, how could we with gorgeous sights like this? Wildflowers start popping up across the Lone Star State every spring, and we guarantee you've never seen anything like this magical sunflower field in Texas. Let's check it out.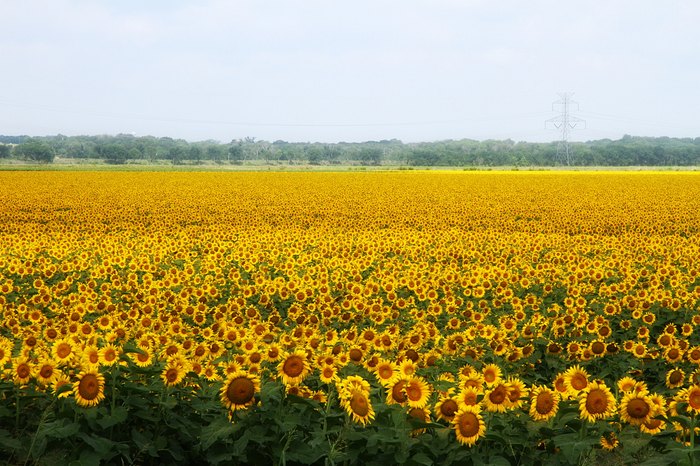 Have you, by chance, ever seen this particular sunflower field in Texas? Are there any other fields of wildflowers that are particularly breathtaking? Let us know where to find them so we can all go visit this spring!
And if you know of a local attraction, restaurant, or hiking trail that you think we should know about, nominate it for a chance to be featured! We're always on the hunt for those Texas hidden gems.
OnlyInYourState may earn compensation through affiliate links in this article.
Address: Ellis County, TX, USA
sunflower field in Texas
April 14, 2020
Are there any other flowering fields in Texas?
The Lone Star State is home to several flowering fields if you know where to look. The Texas bluebonnet is perhaps one of the most abundant and popular wildflowers, and they typically peak in March and April. Marble Falls in central Texas is a great place to spot wildflowers, and while you're in the area you can pop on over to Burnet which is affectionately known as the "Bluebonnet Capital of Texas", and a drive down Highway 29 towards Mason this time of year will yield beautiful pops of color.
What are the most beautiful places in Texas?
From limestone caverns to cypress swamps, Texas has some of the most beautiful natural landscapes in the country. For a swampy scene, head over to Caddo Lake in East Texas, a great spot for kayaking through the cypress trees and wetlands. Willow City Loop outside of Fredericksburg is great for checking out the bluebonnets, and perhaps the most hidden gem in Texas is the Palo Duro Canyon, nicknamed the "Grand Canyon of Texas."
Where should I go to see things in nature in Texas?
For kayakers, you can't go wrong with a trip down the Medina River. Lined with cedar and oak trees and beautiful limestone bluffs, this spring-fed lake is ideal for those looking to see nature from a different perspective. Krause Springs is a beautiful 115-acre site with 32 springs plus a waterfall and several rocks to perch on and soak up some sun. If you're seeking nature beneath the surface, head over to the Cave Without A Name in Boerne where you can explore a quarter-mile of caverns filled with stalactites, stalagmites, and helictites.
OnlyInYourState may earn compensation through affiliate links in this article.
Address: Ellis County, TX, USA